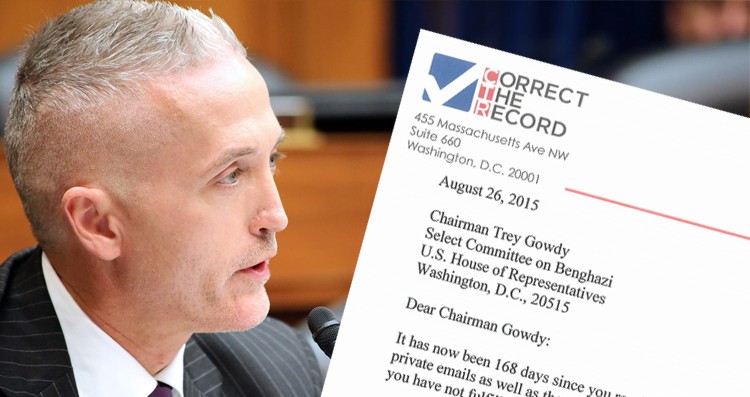 A pro-Clinton is demanding Trey Gowdy, the chairman of the House Select Committee on Benghazi, release his own work-related and private emails and those of his staff.
Correct the Record founder David Brock sent a letter to Rep. Gowdy (R-SC) on Wednesday renewing the group's earlier request of March 11 urging Gowdy to release all his email records to "ensure public confidence in the fairness and impartiality" of his investigation into the events surrounding the Benghazi tragedy.
In this new letter, "Brock called on Gowdy to respond to Correct The Record's original request, made 168 days ago, for Trey Gowdy to release his own emails." As a post on the Correct the Record website notes, "Unlike former Secretary of State Hillary Clinton, who proactively asked that all her work-related emails be made available to the public, Trey Gowdy has yet to respond to requests
Noting that Gowdy "has been on a crusade to prosecute a purely political campaign against Hillary Clinton over her use of email," Brock wrote in this new request that Gowdy was attempting to hold Clinton "to a standard beyond what her predecessors were held to and beyond the law and rules in place regarding the use of email when she was Secretary of State," adding that "it is patently absurd for you to hold Secretary Clinton to a higher standard than the law or anyone else who has been in a similar position – but the level of absurdity is off the charts when you refuse to hold yourself or your committee to any standard of transparency whatsoever."
Writing that he recognized that he was "unlikely to receive a response" from Gowdy, Brock  hazarded "a few educated guesses" as to why Gowdy was refusing to release said emails:
"Perhaps you are hiding correspondence with GOP presidential candidates, the Republican National Committee or other political committees that would show what is obvious to all which is that your entire effort here is a campaign of character and political assassination against Hillary Clinton in an effort to win a political campaign. Nothing more, nothing less."
"Perhaps you are hiding emails which would reveal how, after you pledged not to use this investigation to raise money for the GOP, you managed to attend fundraising events where Benghazi was specifically raised in a political context."
"Almost certainly you and your team are hiding correspondence with numerous media outlets, the New York Times being one, which would show that the committee, and perhaps you personally, has selectively leaked erroneous and dishonest information to smear Hillary Clinton."
Citing the waste of "more than $4 million of taxpayer dollars on a partisan show with no end in sight," Brock concluded his letter by warning Gowdy that
Your failure to release your own email will only reinforce the notion that this investigation is nothing more than a political farce and that you sir are nothing more than a hypocrite.

If you believe that you and your committee on the other hand are above reproach you should simply release your emails for all the world to see.
You can view the August 26, 2015 letter here, and the original request from March 11, 2015 here.
Original image without the letter: Rep. Gowdy's confirmed official Facebook page.
(Visited 88 times, 1 visits today)