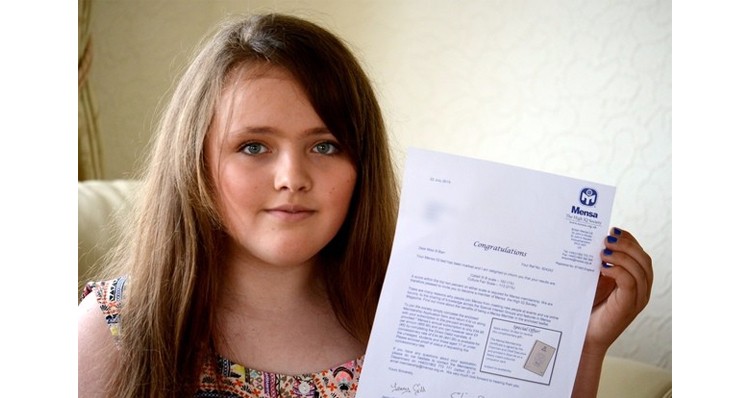 A 12-year-old girl from the U.K. has received a perfect score of 162 on an IQ test, placing her two points higher than both Albert Einstein and Stephen Hawking. Of course, as Emory University reports, Einstein never took a modern IQ test, but it's widely believed that he had an IQ of 160, the same score as Hawking.
That perfect score also places Nicole Barr in the top one per cent of intelligent people in the world. The average score is 100 and anything over 140 is considered genius.
Western Daily Press reports that her father, Jim Barr, a 36-year-old gutter cleaner and driveway repairman, says her stunning score is the talk of the town.
"The story has been going around the g*psy community, particularly on Facebook where it keeps being shared," he said, adding, "It's nice for us to be in the news for something good for a change. This shows that it doesn't matter where you come from, anyone can be academically brilliant."
Jim told Yahoo Parenting that: "I didn't want to put any pressure on her, so we went for the fun of it. I had the idea in my mind that she would get into Mensa, but when I got the results back, I thought, 'Wow that's a high score!' It wasn't until later that I learned it was the top score possible on that test."
To put this in context, Western Daily Press reports that "There are 110,000 members of Mensa worldwide, including 20,000 in the British Isles," adding that, "Only eight per cent of members are under 16, with only 35 percent of members being female."
Mensa Spokesman Ann Clarkson said that, "Nicole's IQ puts her comfortably within the top one percent of the population. Only children can get a score higher than 161, because that is the maximum IQ score for an adult. The test is age adjusted for children." She adds that "while a score of 162 isn't exactly unknown, it is still quite rare."
Cosmopolitan reports that her mother, Dolly Buckland, said that, "From a young age she's been picking out mistakes in books and magazines. She's a happy, fun-loving girl who is always asking for extra homework."
Although neither of her parents seem surprised at her score, Nicole said that, "When I found out I got such a high score, it was so unexpected. I was shocked," adding,"I remember when I was in primary school and I was an angel in a school play, another girl who was playing the other angel didn't turn up so I learnt her lines too."
According to the Western Daily Press, Nicole attends Burnt Mill Academy, in Harlow, and "enjoys reading, singing and drama, and hopes to go on to study to become a doctor."
Helena Mills, head of the academic group that runs Burnt Mill Academy, said: "Nicole is a brilliant pupil. She works incredibly hard and has thrown herself into many different activities in her first year with us," adding that "For example she has been camping, entered writing competitions and taken part in a national maths challenge. She lives and breathes our unofficial motto of hard work pays."
(Visited 1,758 times, 1 visits today)