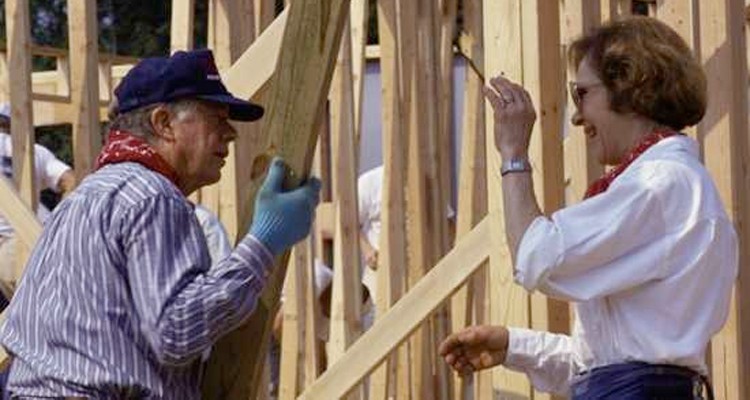 Amazing. On Thursday (October 1) former President Jimmy Carter turns 92. During the same week, the former U.S. President and former First Lady Rosalynn Carter announced they will be joining 1,500 volunteers in Nepal for Habitat Humanity's 32nd Carter Work Project.
After being diagnosed with cancer and receiving several treatments, the President got the 'okay' from his doctors to make the trip.  Ain't nobody's gonna break his stride. Mr. and Mrs. Carter will travel to Nepal for the 32nd time to work on a Habitat for Humanity project.
According to the Habitat for Humanity website: "The build will take place Nov. 1-6 in the Chitwan district, which is located 160 kilometers (100 miles) west of the capital, Kathmandu."
"Since Rosalynn and I first volunteered with Habitat for Humanity in 1984, we've never missed a single year," said President Carter, adding: "I am grateful that we can join with other volunteers in November and continue to help shed light on the critical need to address inadequate housing around the world."
President Carter has mentioned, in the past, that much of his dedication to peace and the goodwill of others came from his mother, 'Ms. Lillian' Carter, who began volunteering for the Peace Corps at the age of 70. The President and Mrs. Carter have given so much of their time, labor, and compassion to many causes. The the Habitat For Humanity is just one. During the previous 31 projects, more than 92,000 volunteers have built, renovated and repaired 3,943 homes in 14 countries.
Read more here at: Habitat For Humanity
The folks over at the new Facebook page, Honoring Jimmy Carter are paying tribute to President Carter via comments and posits. Their goal is to hit 100k members/page LIKES by Thursday night, as sort of a nice birthday card to let the Carters know there so many people out there who love, respect, and admire them. Currently at 88k likes, they just might do it.

About Habitat for Humanity International
Habitat for Humanity International's vision is a world where everyone has a decent place to live. Anchored by the conviction that housing provides a path out of poverty, since 1976 Habitat has helped more than 5 million people through home construction, rehabilitation and repairs and by increasing access to improved shelter through products and services. Habitat also advocates to improve access to decent and affordable shelter and offers a variety of housing support services that enable families with limited means to make needed improvements on their homes as their time and resources allow. As a nonprofit Christian housing organization, Habitat works in more than 70 countries and welcomes people of all races, religions and nationalities to partner in its mission. To learn more, donate or volunteer, visit habitat.org.

Originally posted to Daily Kos by Leslie Salzillo.
(Visited 55 times, 1 visits today)