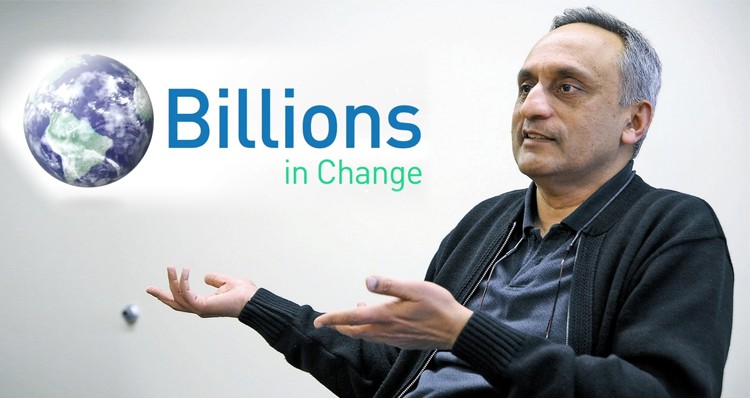 Manoj Bhargava is a the founder and CEO of Living Essentials, the biggest player by far in the ­energy-shot market and the company behind "5-hour Energy."
Bhargava was born Lucknow, India, he moved to the United States in 1967 with his family at the age of 14, but returned to India in 1974 where he lived in an ashram in the mountains as a monk for 12 years.
Bhargava would return to the U.S. periodically during his ashram years, working odd jobs before returning to India. For a few months he drove a yellow cab in New York. When he moved back from India for good, it was to help with the family plastics business at his parents' urging. He spent the next decade dabbling in RV armrests and beachchair parts. He had no interest in plastics whatsoever but devoted himself to buying small, struggling regional outfits and turning them around. By 2001 Bhargava had expanded his Indiana PVC manufacturer from zero sales to $25 million (he eventually sold it to a private equity firm for $20 million in 2006). He decided to retire and moved to Michigan to be near his wife's family. "Nobody moves on purpose to Detroit," he says. His retirement lasted two months. He knew from his plastics success that the chemicals industry was ripe for exploiting. "Chemicals are really simple," he says. "You mix a couple things together and sell it for more than the materials cost."
He went on to start a consumer products company called Living Essential and in 2004 launched "5-Hour Energy." Bhargava's stake in Living Essentials is valued at nearly $4bn and he was added to the Forbes Billionaires list in 2013.
A well-known philanthropist, Bhargava's foundations include the Knowledge Medical Charitable Trust and the Rural India Charitable Trust which have funded medical research in the United States and over 400 charities in India.
According to a report by Forbes, "Bhargava claims to have given away $1 billion in 2009, with a letter to FORBES from his attorney, David Lieberman of the Michigan firm Seyburn Kahn, to back him up," and in April 2012, The Economic Times reported that Bhargava was giving away 90% of his fortune.
In September 2012, Bhargava joined The Giving Pledge, "a commitment by the world's wealthiest individuals and families to dedicate the majority of their wealth to philanthropy."
Made public in 2010 by Warren Buffett and Bill Gates,  "The Giving Pledge is an effort to help address society's most pressing problems by inviting the world's wealthiest individuals and families to commit to giving more than half of their wealth to philanthropy or charitable causes either during their lifetime or in their will."
According to their website: "The Giving Pledge is specifically focused on billionaires or those who would be billionaires if not for their giving." The site goes on to note that: "The idea takes its inspiration from efforts in the past and at present that encourage and recognize givers of all financial means and backgrounds. We are inspired by the example set by millions of people who give generously (and often at great personal sacrifice) to make the world a better place."
Bhargava wrote of joining the pledge:
My choice was to ruin my son's life by giving him money or giving 90+% to charity. Not much of a choice.

Service to others seems the only intelligent choice for the use of wealth. The other choices especially personal consumption seem either useless or harmful.

The projects our foundation works on are defined only as alleviating human suffering. We have adopted over 400 charities from schools and hospitals to women's career education in rural India. We are also working on desalinating water cheaply, reducing fossil fuel emissions by 50%, cleaning mercury and sulfur dioxide from coal and a revolutionary medical technology that will improve overall health for the poor and the not so poor.

For us, all of this falls under reducing human suffering. We may not be able to affect human suffering on a grand scale but it will be fun trying.
Bhargava is also the founder of Billions in Change, a "movement [that] aims to build a better future for people across the world by delivering innovative solutions that addresses issues such as water deprivation, energy sustainability and disease prevention to directly impact humanity."
Billions in Change released a documentary on October 5th of this year which tells the story of Stage 2 Innovations, a project that was started by Bhargava.
It tells the story of Stage 2 Innovations, a laboratory outside of Detroit where tinkerers created the Rain Maker. This machine, the size of a car, can convert seawater, or even polluted water, into fresh water at the rate of 1,000 gallons an hour. They also created the Free Electric system, which, as the name suggests, can provide free electricity to the billions of people in the world who currently have none. Their Renew ECP medical device promotes wellness by improving blood circulation – without drugs or surgery.

Stage 2 Innovations was started by entrepreneur Manoj Bhargava. He became an American success story when his company, Living Essentials, introduced 5-hour ENERGY®. He has pledged to give away 99 percent of his wealth, and now spends most of his time focused on Stage 2.
Bhargava is the narrator and central figure in the film and says he plans to give 99 percent of his fortune to charity.
"Awareness doesn't reduce pollution or grow food. That takes doing," he states at the start of the film. "If you have wealth, it's a duty to help those who don't."
Having pledged 99% of his money to charity, Bhargava takes a common sense approach to philanthropy, believing that money is not enough, Bhargava believes personal involvement is vital to success.
Writing for Huffington Post last week, Bhargava explains that:
There are nearly 7.3 billion people in the world today, and we're facing some huge challenges. I don't need to tell you that. I also don't need to tell you that billions lack access to a reliable source of safe drinking water, or that 1.3 billion don't have electricity. Or that one in nine people don't have enough food. The news is filled with statistics about hunger, sickness, disease, war, natural disaster, and other crises.

We don't need more awareness. We've had enough talk about what's wrong. We need solutions that are realistic and effective — and we need action.
You can read more about his solutions and belief that "Great Invention Is the New Philanthropy" in his Huffington Post article.<
You can watch the Billions in Change trailer followed by the full documentary, below:
Billions in Change Official Trailer (2015) – Manoj Bhargava
Billions in Change Official Film
(Visited 180 times, 1 visits today)