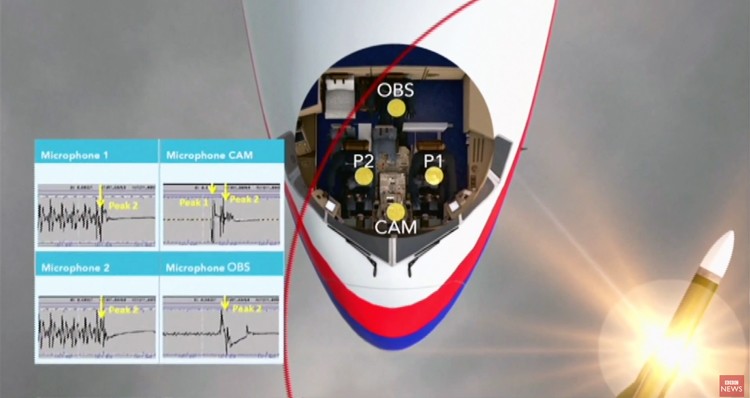 The Dutch Safety Board investigating the crash of Malaysia Airlines flight MH17 concluded in their final report that the jet was downed by a Russian-made "warhead" fired from eastern Ukraine that detonated outside the jet's cockpit. The report was accompanied by a chilling animation of Malaysia Airline MH17 being hit by a missile. [below]
Malaysia Airlines Flight 17 was a scheduled international passenger flight from Amsterdam to Kuala Lumpur that crashed on 17 July 2014 after being shot down, killing all 283 passengers and 15 crew on board.
NBC News reports that the findings of the Dutch Safety Board "were announced at a press conference against the dramatic backdrop of the Boeing 777's partially reconstructed fuselage." The report does not say who fired the missile, but says airspace over eastern Ukraine should have been closed.
Tjibbe Joustra, the chairman of the board, told reporters that the crash was caused by "the detonation of a warhead" to the left of the cockpit.
Giving what was the most detailed description of the jet's final moments to date, Joustra said the explosion killed the plane's three crew members in the cockpit and that investigators had found "high energy fragments" in their bodies.

The blast — less than one yard from the plane's fuselage — also caused "structural damage," which resulted in the jet's "forward part" tearing off. The plane broke up in midair and scattered over a 20-square-mile area, he said.
BBC News elaborated, reporting that: "the West and Ukraine say Russian-backed rebels brought down the Boeing 777, but Russia blames Ukrainian forces."
The report says the three crew members in the cockpit were killed by the missile explosion instantly.

However, it adds, it was unclear at which point the other occupants died, and the possibility of some remaining conscious for some time during the one-and-a-half minutes it took for the plane to go down could not be ruled out.
The official reaction on Tuesday was as follows, according to BBC:
Dutch Prime Minister Mark Rutte urged Russia to co-operate in the investigation, saying "the priority now is to find and pursue those who are responsible"
Ukrainian Prime Minister Arseniy Yatsenyuk says he had "no doubt" that the crash was "a planned operation of the Russian special services"
The White House said the US would "fully support all efforts to bring to justice those responsible"
Russian Deputy Foreign Minister Sergey Ryabkov called the Dutch crash investigation "biased in nature" and said Russia was "ready to present its own information"
Malaysian Prime Minister Najib Razak said his government's "commitment to bringing the perpetrators to justice remains as strong as it was on that fateful day 17 July 2014"
Eduard Basurin, deputy defence minister of the self-proclaimed Donetsk People's Republic in eastern Ukraine, said rebel forces "did not have a Buk anti-air defence system at that time".
(Visited 12 times, 1 visits today)