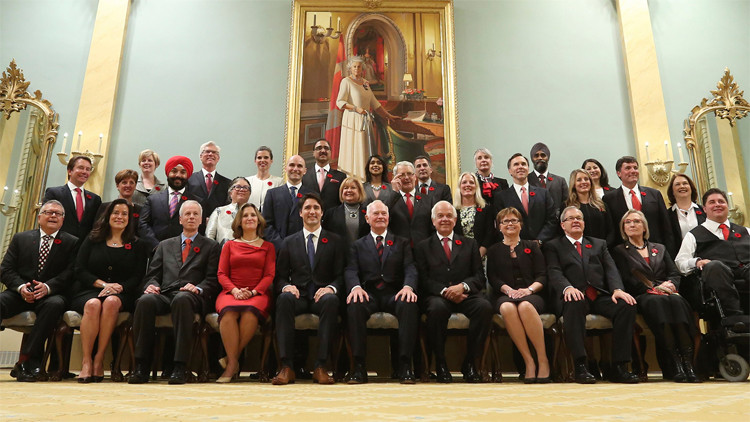 UPDATED 20 November 2016: In the wake of controversy surrounding President-elect Trump's appointment of white nationalists, bigots, misogynists and the like – Liberals Unite wanted to remind Americans that there is a better way to govern.
Canada's new prime minister appoints a young and ethnically diverse cabinet that is equally balanced between men and women for the first time in the country's history.
Canada's new liberal prime minister, Justin Trudeau, named an incredibly diverse cabinet, one that is equally balanced with 15 women and 15 men – most under the age of 50.
"It's important to be here before you today to present to Canada a cabinet that looks like Canada," Trudeau, 43, told reporters shortly after being sworn-in as the country's 23rd prime minister, and the country's second-youngest in its history.
Asked by reporters why it was important to give half those jobs to women, Trudeau replied: "Because it is 2015."
Alana Phillips, a Canadian, took to her Facebook page to list new ministers along with their amazingly diverse credentials.
Phillips provided some background in a subsequent post, writing: "Hello world! I'm glad you liked my post about the new Canadian Cabinet!" adding: "Yes, I wrote it myself; You're right – I got a couple of things wrong (if I'd known it was going to go viral, I would have done more fact-checking)… I'm a science writer & editor with a background in marine mammal conservation.* And yes – I'm looking for work!"
Perusing her list, you can see that Canada has a Minister of CLIMATE CHANGE, a Minister of Health who is an "actual doctor," a Minister of Science who is a Nobel Laureate, a minister who is Muslim, two who are Sikh, at least two who are Atheists. They have a minister battling breast cancer, one who is blind, another who is gay, one with "a perfect twirly moustache."
Check out Alana's list and let us know your thoughts about our cabinet in the comments, below:
For once, Canadians are proud (and perhaps even a little bit smug). We ran the data:
We have a Minister of Environment and CLIMATE CHANGE.
We have a Minister of Immigration, Citizenship and REFUGEES.
Our Prime Minister is a sci-fi geek.
Our Minister of Health is an actual Doctor.
Our Minister of Families, Children and Social Development is a poverty economist.
Our Minister of Science is an actual Scientist (oh, and she has a Nobel Prize).
Our Minister of Status of Women is an actual woman!
Our Minister of Veterans Affairs is a quadriplegic because he was shot in a drive-by shooting.
Our Minister of Employment, Workforce Development and Labour is a Professional Geologist.
Our Minister of Democratic Institutions is a Muslim refugee.
Our Minister of Sport and Persons with Disabilities is a Paralympian Athlete.
Our Minister of Defence is a badass war hero, Afghanistan combat vet, and police officer.
OUR MINISTER OF TRANSPORT IS A GODDAMN ASTRONAUT.
Half of our Ministers are women.
Half of our Ministers are men!
Two of our Ministers are people of First Nations (Kwakwaka'wakw, Inuit)
Three of our Ministers were born outside of Canada (India, Afghanistan)
Two of our Ministers are Sikh.
At least one of our Ministers is Muslim.
At least two of our Ministers are Atheist.
One of our Ministers is battling breast cancer. 🙁
One of our Ministers is in a wheelchair.
One of our Ministers is blind.
One of our Ministers is openly gay.
One of our Ministers is openly ginger.
Also, Hon. Navdeep Bains has a perfect twirly moustache.
(Visited 1,749 times, 1 visits today)