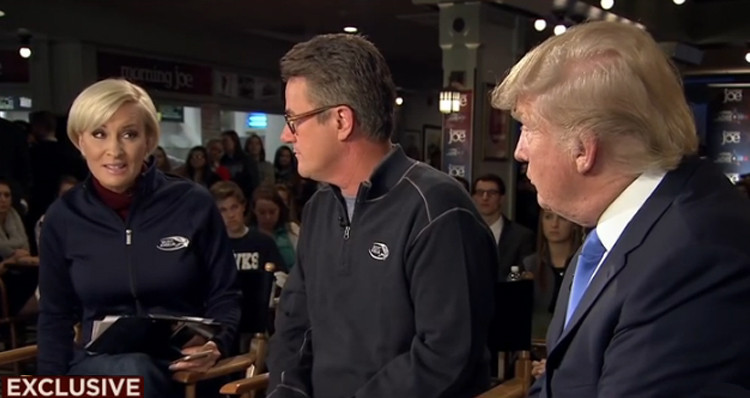 Donald Trump is doubling down on remarks he made about workers' wages being too high, sending a clear message to American workers.
Republican presidential hopeful Donald Trump is doubling down on remarks  he made during Tuesday's debate regarding wages.
Asked if he was sympathetic to the cause of workers protesting for $15 an hour by Fox News moderator Neil Cavuto, Trump coldly responded: "I can't be Neil," later adding that: "wages too high, we're not going to be able to compete against the world."
Asked directly if he would raise the minimum wage, Trump replied: "I hate to say it, but we have to leave it the way it is."
Trump doubled down on those remarks the next morning on NBC's "Morning Joe."
NBC's Mika Brzezinski questioned him about his debate remarks, telling him "Last night I heard you say that you would keep the minimum wage as is, that you would not raise it. Explain how that is necessary because $7.50 an hour, Donald, no one can live on that and there are people living on that."
Trump responded that "We're becoming a non-competitive country. That's the problem. We're becoming non-competitive. I would love to say make it $50 an hour I think it's great. And you know what? It's a tough position politically."
Brzezinski followed up, asking: "But Donald, do you have people working for you making $7.50 an hour?"
Trump replied: "Yeah, probably, maybe I do."
An unconvinced Brzezinski retorted: "Really?"
Trump responded:
I don't know. Maybe somewhere down the line; I got thousands of people. But you know what? We have to become competitive with the world. Our taxes are too high, our wages are too high, everything is too high. We have to compete with other countries, and if we're going to just say – hey, I just see in New York where they made it $15 we're going to see [cross talk]

What's going to happen is now people are going to start firing people because, it's the same old story and it's happened a hundred times and it's always happened.
You can watch the segment, below. The relevant portion begins at about the 6 minute and 42 second point:
(Visited 31 times, 1 visits today)