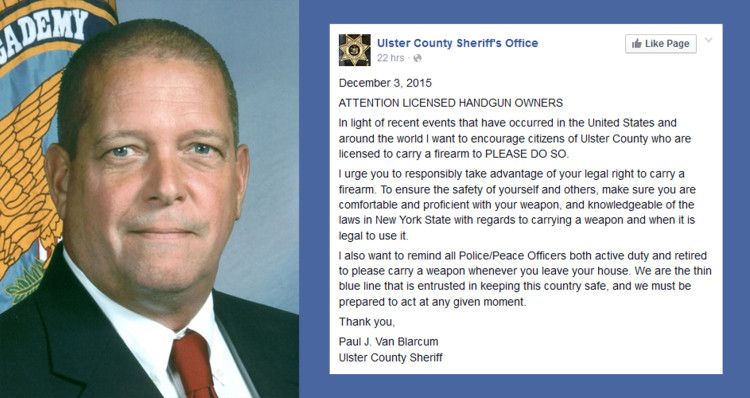 New York sheriff sparks intense outrage after posting a call to arms on social media.
Sheriff Paul Van Blarcum posted a call to arms to licensed handgun owners sparking intense outrage as well as support.
Sheriff Van Blarcum posted the message on Thursday on the Ulster County Sheriff's Department's Facebook page in the wake of the "hundreds of shootings reported across the U.S. this year, including the most recent where 14 people were gunned down in San Bernardino, California," according to the Poughkeepsie Journal.
The letter was dated December 3, 2015 and addressed "ATTENTION LICENSED HANDGUN OWNERS."
"In light of recent events that have occurred in the United States and around the world I want to encourage citizens of Ulster County who are licensed to carry a firearm to PLEASE DO SO," the sheriff wrote, adding: "I urge you to responsibly take advantage of your legal right to carry a firearm. To ensure the safety of yourself and others, make sure you are comfortable and proficient with your weapon, and knowledgeable of the laws in New York State with regards to carrying a weapon and when it is legal to use it."
He went on to address law enforcement officials, writing: "I also want to remind all Police/Peace Officers both active duty and retired to please carry a weapon whenever you leave your house. We are the thin blue line that is entrusted in keeping this country safe, and we must be prepared to act at any given moment."
Van Blarcum told CBS2's Sonia Rincon that the post was not intended to spark debate.
"All I was doing as reminding people that here in Ulster County, if you are a licensed hand gun owner, and you feel comfortable carrying that handgun, you're proficient with that handgun, and you're responsible with that handgun, then I encourage you to carry that handgun," he said.
You can see his post, below, followed by a short news interview with Sheriff Van Blarcum.
CBS New York – Ulster County Sheriff: All Licensed Handgun Owners Should Carry Them
Special thanks to our friends at Lady Grey for telling us about this story and for helping to bring awareness to the situation on social media. As you can see from their meme, below, a reader had some great words to share about this reckless post by Sheriff Van Blarcum:
(Visited 69 times, 1 visits today)