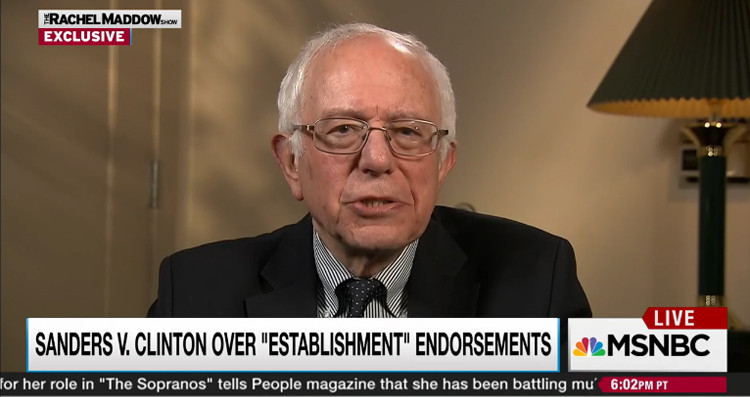 Controversy over Planned Parenthood remarks by Bernie Sanders during interview with Rachel Maddow
Democratic presidential hopeful Bernie Sanders stirred up controversy over remarks he made about Planned Parenthood during a Tuesday interview with Rachel Maddow.
Maddow questioned Sanders about the lack of endorsements by progressive groups in spite of his long-standing and consistent positions on issues such as gay rights and reproductive choice.
Senator, let me ask you about another issue in terms of the way the campaign is going forward. Your policies on issues like gay rights and reproductive choice are very consistent. They should be very attractive to progressive groups. But there`s been a series of high profile endorsements of groups like Planned Parenthood and NARAL; they've gone out of their way to make very early endorsements for Secretary Clinton. Just today, Human Rights Campaign, the gay rights group, announced their Clinton endorsement.

Are you competing for those groups' endorsements and not getting them, or are you not trying to get them?
Sanders responded: "Look – no, Rachel, I would love to have the endorsement of every progressive organization in America. We're very proud to have received recently the endorsement of MoveOn.org. We've received the endorsement Democracy for America. These are grassroots organizations representing millions of workers."
Remarkably, he then accused groups such as the Human Rights Campaign and Planned Parenthood of being part of the "political establishment."
What we are doing in this campaign, it just blows my mind every day because I see it clearly, we're taking on not only Wall Street and [the] economic establishment, we're taking on the political establishment.

So, I have friends and supporters in the Human Rights Fund and Planned Parenthood. But, you know what? Hillary Clinton has been around there for a very, very long time. Some of these groups are, in fact, part of the establishment.
Democratic presidential rival Hillary Clinton, incredulous at such a characterization, tweeted early Wednesday morning:
Really Senator Sanders? How can you say that groups like [Planned Parenthood] and [the Human Rights Campaign] are part of the 'establishment' you're taking on?
Dawn Laguens, executive vice president and chief experience officer of Planned Parenthood Federation of America (PPFA) and the Planned Parenthood Action Fund, responded with the following statement:
I'm disappointed in Senator Sanders's remarks last night. This country sees attacks against reproductive health, reproductive rights, and marriage equality every day—especially from every single GOP candidate for President. It's regrettable, and surprising, to hear Senator Sanders describe the very groups that fight on behalf of millions of often marginalized Americans—people who still have to fight for their most basic rights—as representing the 'establishment.' Reproductive health care and rights, and the full equality of LGBTQ people, are core progressive values that should unite us all.
The Human Rights Campaign also weighed in on the exchange, expressing disappointment in a Wednesday morning tweet:
We share [Planned Parenthood's] disappointment in Sanders' attack. [The Human Rights Campaign] has proudly taken on the establishment & fought for LGBT people for over 30 years.
The trap Sanders falls into here is a common one that has plagued him throughout this campaign: Faced with a question he either isn't prepared for or seeks to dodge, he defaults to his core anti-establishment message. It works when he's railing against Wall Street or, to a lesser extent, structural racism. It fails particularly when he's labeling the embattled Planned Parenthood, the target of a terrorist attack two months ago, as part of the "political establishment" because it is not backing his candidacy.
However, in another article The New Republic defends Sanders – expressing their belief that the statement was merely a gaffe:
If Sanders set out to declare war on the Human Rights Campaign, Planned Parenthood, and others, it was a terrifically strange move to open his comments by wishing for their endorsements. They are, after all, among the "progressive organization[s]" he was referring to when he approached the subject at Maddow's prompting. And it would've been even more bizarre for Sanders to note that he has "friends and supporters" inside Planned Parenthood and the Human Rights Campaign (which he mistakenly called the "Human Rights Fund") if his ultimate point was that these organizations stand in need of destruction. And, while Sanders designating MoveOn.org and Democracy for America as "grassroots"—perhaps in contrast to Planned Parenthood and the Human Rights Campaign—surely rankled some, "grassroots" is not synonymous with "good," and Planned Parenthood and the Human Rights Campaign are each among the largest and most influential organizations of their kind.
They continued their analysis, writing:
So what was Sanders getting at, if he wasn't expressing a sudden seizure of reactionary sentiment? It appears to me he was reiterating what he has said about his candidacy all along—that his success is atypical because of his reliance on grassroots funding and support instead of major donors, PACs, or influential endorsements from prominent groups.

[…]

Sanders was not impugning the services offered by Planned Parenthood or the work done by the Human Rights Campaign. In fact, Sanders's campaign responded to the Human Rights Campaign's announcement that it is backing Clinton by arguing, "It's understandable and consistent with the establishment organizations voting for the establishment candidate, but it's an endorsement that cannot possibly be based on the facts and the record"—a reference to Sanders's long record of supporting LGBT rights. Nor was he attempting to imply that the organizations he clearly labeled as progressive are somehow conservative by nature of their influence in the liberal political arena.
Clinton supporters will likely be quick to respond in the negative to Sanders' remarks while his own supporters will likely take a similar approach to that of The New Republic. Agree or disagree with Sanders' approach – Liberals Unite fully intends to support both campaigns throughout the primary season and looks forward to endorsing whichever candidate win's the nomination.
You can watch Bernie Sanders' making those statements below, along with commentary by Rachel Maddow about the controversy the interview sparked:
(Visited 33 times, 1 visits today)