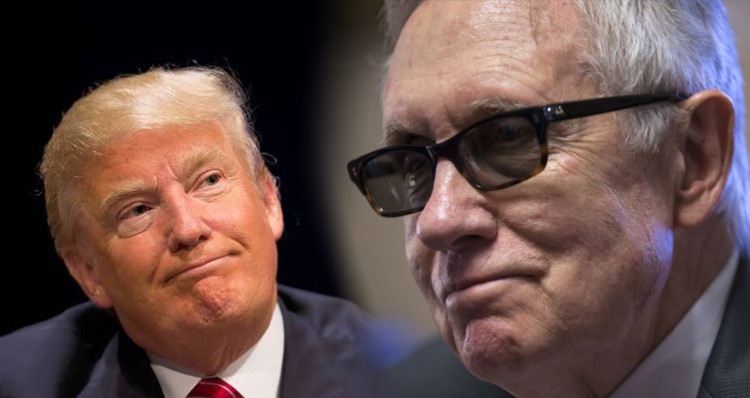 Harry Reid Puts The Smackdown on Senate Republicans Over Trump Bigotry
Senate Minority Leader Harry Reid (D-NV) aims to force Senate Republicans to take a stand on several of Donald Trump's more controversial campaign promises.
Republicans have been trying to distance themselves from the outlandish proposals made by billionaire bigot and Republican presidential front-runner Trump, but Reid vowed to change all that in a Thursday tweet linked to an official statement.
"It's unclear when Democrats will try to force the votes or what legislation they will use to advance the measures," according to The Hill, but could prove problematic for Republicans.
According to The Hill, "While Senate Republicans broadly dismissed Trump's push to ban Muslims from entering the country and have shown no signs of affection for Trump, they've also been reluctant to completely alienate him or his supporters."
The tweet mocked Republicans who are gathered this week for their annual retreat.
"If Republicans are afraid to bring Trump's policies up for votes, Democrats will do it for them," the tweet read.
If Republicans are afraid to bring Trump's policies up for votes, Democrats will do it for them. https://t.co/SE8XtDxLIt

— Senator Harry Reid (@SenatorReid) January 14, 2016
Noting that "Reid released the following statement outlining Democrats' plans to give Republicans a chance to stand with GOP presidential frontrunner Donald Trump and his reprehensible policies," the official statement reads as follows:
 "As Congressional Republicans gather today and tomorrow for their annual retreat, Donald Trump will be a frequent topic of discussion. Since Republican leaders in the House and Senate have pledged loyalty to Trump, the obvious next step is to vote on his policies, including his unconstitutional plan to bar people from entering the United States based on their religion. Democrats believe no one should be discriminated against because of their faith. These votes will give all Senators a chance to take a stand on the policy issues dominating the public debate – and Republicans a chance to stand with the frontrunner for their nomination. Scheduling the votes can be done easily and efficiently under an open amendment process, with no interference to the light workload Senate Republican leaders have announced for 2016.
"If Republicans are afraid to bring their standard-bearer's policies up for votes, Democrats will hold Republicans accountable by seeking floor votes on Trump's policies ourselves."
(Visited 81 times, 1 visits today)