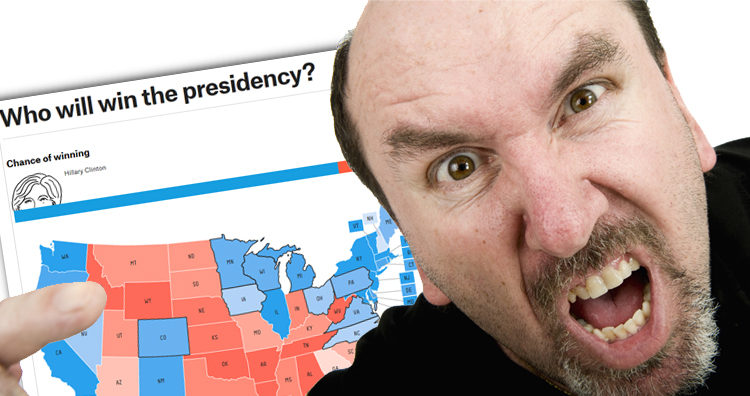 Nate Silver's latest polling figures is the stuff of nightmares for Republicans.
Nate Silver, the statistician and polling expert with a long history of accurate predictions, has a chilling prediction for Republicans regarding the projected electoral map.
Silver took to his website, FiveThirtyEight, this week updating his map of the general election between Democratic nominee Hillary Clinton and Republican hopeful Donald Trump.
Based on current polling, the outcome isn't even close, and there are still over three months until the General Election.
And bear in mind that Silver successfully predicted the outcome in 49 of 50 states during the 2008 presidential elections and was subsequently named one of "The World's 100 Most Influential People" by Time Magazine in 2009.
His predictions for the 2016 presidential contest are broken down into three categories.
Polls-only forecast – What polls alone tell us about Nov. 8

Polls-plus forecast – What polls, the economy and historical data tell us about Nov. 8

Now-cast – Who would win an election today
Any way he looks at the figure, Nate Silver shows Hillary Clinton running away with the election.
The Polls-only forecast shows Clinton winning 81.5% to 18.5%; the Polls-plus shows little change with Clinton taking 74.9% to 25.1%.
AND the Now-cast shows Clinton annihilating Trump by a margin of 91.5% to 8.5%.
Silver's current figures also show Clinton winning the popular vote by a margin of 48.1% to 42.6% with Libertarian candidate Gary Johnson receiving approximately 7.9%. No figures were displayed for Green Party candidate Jill Stein.
Silver also presented some "Crazy and not-so-crazy scenarios," as follows:
Here are the chances we'll see these election outcomes.
Electoral College deadlock no candidate gets 270 electoral votes 0.2%
Recount at least one decisive state within 0.5 ppt 2.9%
Clinton wins popular vote 93.7%
Trump wins popular vote 6.3%
Clinton wins popular vote but loses Electoral College 2.7%
Trump wins popular vote but loses Electoral College 0.5%
Johnson wins at least one electoral vote 4.6%
Clinton majority wins at least 50 percent of the vote 40.8%
Trump majority wins at least 50 percent of the vote 0.5%
Clinton landslide double-digit popular vote margin 32.4%
Trump landslide double-digit popular vote margin 0.2%
(Visited 191 times, 1 visits today)