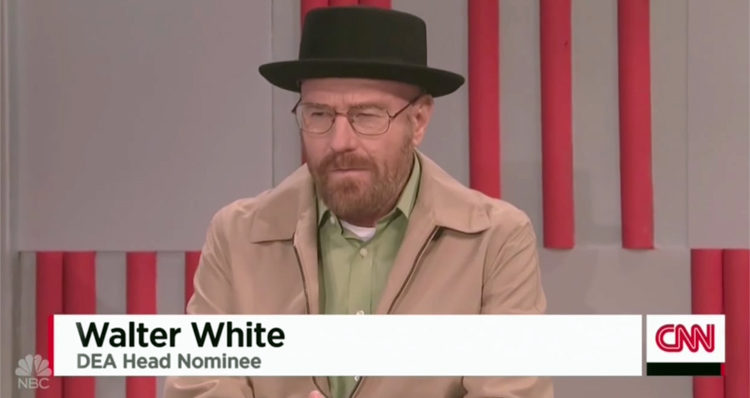 Bryan Cranston mocks Trump's head-scratching cabinet appointees as Breaking Bad's Walter White on Saturday night Live.
SNL took on Donald Trump's ridiculous cabinet nominees in last night's open, featuring actor Bryan Cranston in arguably his most identifiable role – that of Walter White of "Breaking Bad."
The sketch spoofed CNN's Jack Tapper interviewing Trump Senior Advisor Kellyanne Conway, featuring Kate McKinnon as Conway and Beck Bennett as Tapper discussing Trump's head-scratching cabinet picks to include Oklahoma Attorney General Scott Pruitt to head the EPA (Environmental Protection Agency) "even though he's a "fossil fuel advocate that doesn't believe in climate change."
Conway responds, that "actually Scott Pruitt is excited for the job and is ready to protect us all from the environment."
After bringing up the puzzling nomination of Carl's Jr. CEO Andy Puzder as Secretary of Labor although he is vehemently opposed to minimum wage, Tapper asks: "Kellyanne, it's almost like Mr. Trump appoints these people specifically to undermine the very agencies they head. Are these bad picks?"
"No, Jake, they are not bad," Conway replies, adding: "They are alt-good."
Tapper goes on to present some breaking news, the announcement of "a high school science teacher from New Mexico by the name of Walter White," to head the DEA (Drug Enforcement Agency).
Enter Bryan Cranston as Walter White.
Conway remarks that White "came highly recommended by Steve Bannon," Trump's chief political strategist, alleged white nationalist and former head of the controversial conservative website Breitbart.
Asked where Mr. Bannon found him, White responds "under the comments section at Breibart. And I was pretty surprised he tracked me down because I've been off the grid for a while."
Asked by Tapper if he knows anything about drug enforcement, White responds, "trust me, I know the DEA better than anyone – inside and out."
Tapper asks if he knows Trump, and White responds he doesn't but likes his style.
"He acts first and then asks questions later. I also like that wall he wants to build – nothing comes in from Mexico, meaning a lot less competition for the rest of us," he responds.
Conway injects that "Walter is a genius with chemicals. We are so lucky to get him. The top companies have been knocking on his door for years, but he never answered."
The sketch concludes with Conway pointing out that "first and foremost" White is "in support of small business," with White responding:
Absolutely, Donald Trump and I agree: It's time to make America cook again. We want to fill this nation with red, white, and a whole lot of blue."
You can watch the clip, below, or you can go here to watch if you are not in the Continental United States:
(Visited 229 times, 1 visits today)