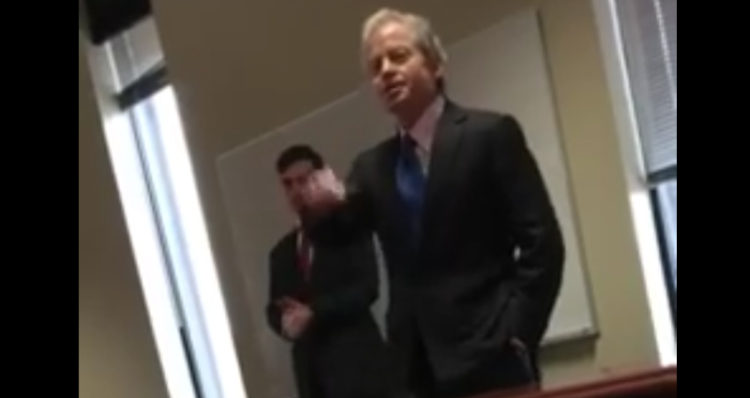 Texas Senator is caught on tape yelling at school children and parents during a PTA Rally Day discussion about education.
With Betsy DeVos now heading the Department of Education, Americans are hearing more and more about school vouchers.
Texas State Senator Don Huffines was captured on video on Monday lashing out at students from the Richardson I.S.D. during a discussion about education as part of the Texas PTA Rally Day events hosted in Austin, Texas.
"What are you scared of," he can be heard shouting at the beginning of the video. "What are all y'all scared of?"
A person in the audience can be heard responding: "That money you're sending to private schools should be used to enhance public schools."
Huffines, clearly enraged responds: "What makes you think it isn't? What makes you think it's your money? It's the businesses. It's their money. Sixty-two percent of all property tax is paid by business."
As The Dallas Morning News reports, "During one exchange, a student pushed back against a proposal to give students a stipend to attend private schools. She said, as other critics contend, that the voucher would not be large enough to allow the student to go to many high-dollar schools in North Texas."
She can be heard about 30 seconds into the video, asking:
"Excuse me Senator, I don't mean to offend you but you are speaking on behalf of the students, and as a student of public education I disagree with this completely. I've gone to a private school before…with these vouchers, what are you going to get — $5000 a year? The majority of these private schools are $5000 a semester. How are lower income families supposed to pay for the rest of the school year?"
Huffines can be heard exploding on her, calling her selfish.
""Oh, so it doesn't pay for all their education. It doesn't pay for all their education, does it? The $5000 won't pay for it, right? So you're saying since we're not giving them enough money to pay for all their education, screw 'em they can't go to private school! Do you want me to give them $15,000? Is that what you want? So they can all go to Hockaday or St. Mark's? That's the most selfish thing I've ever heard."
Matt Langston, a spokesman for Huffines, compared the meeting to an ambush, stating: "Where other politicians might have run, Don Huffines stayed and endured the ambush-style attack, then calmly answered more questions for 15 more minutes, including questions from students."
However, as The Dallas Morning News Reports,
Meredyth Childress, a PTA member and mother of one of the students at the meeting, said the students were not political operatives looking to "ambush" Huffines. They were given articles to review about private school vouchers before meeting with the senator. "We're very proud of the students," Childress said. "Both sides were passionate. One side displayed the proper respect and decorum. One side did not."
Richardson ISD Superintendent Jeannie Stone issued a prepared statement expressing pride in how the children conducted themselves during the discussion:
"My disappointment in Senator Huffines' comments is only exceeded by my pride in our students, who showed Austin how well public school students are prepared for life after high school. They were poised and ready for a fact-based conversation about some of the most pressing issues facing Texas today."
(Visited 12,886 times, 1 visits today)