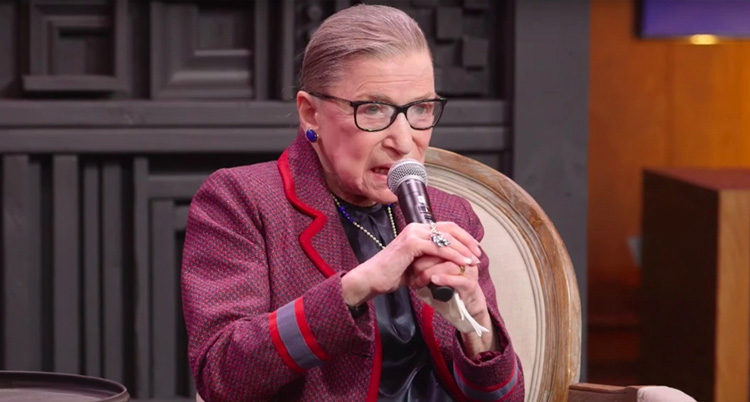 Ruth Bader Ginsburg weighs in on the #MeToo movement – "It's about time!"
Supreme Court justice Ruth Bader Ginsburg discussed her #MeToo experience during an interview with NPR's Nina Totenberg at the Sundance Film Festival on Sunday.
Speaking broadly about the #MeToo moverment, Ginsburg told Totenberg that: "It's about time. For so long women were silent, thinking there was nothing you could do about it, but now the law is on the side of women, or men, who encounter harassment and that's a good thing."
"Every woman of my vintage knows what sexual harassment is, although we didn't have a name for it," the  84-year-old supreme court justice continued, adding that the attitude women faced was "get past it," and "boys will be boys."
Speaking about the sustainability of the movement, NPR News reported that:
Ginsburg isn't worried that the #MeToo movement might cause a backlash against women. "So far it's been great," she said. "When I see women appearing every place in numbers, I'm less worried about a backlash than I might have been 20 years ago."
PBS News Hour reported that: "Moderator Nina Totenberg, NPR's legal affairs correspondent and close friend to Ginsburg, opened their conversation by asking the justice if she had ever been subject to inappropriate behavior."
Sharing one out of "many examples," Ginsburg said that as a student at Cornell University, her chemistry instructor offered her a "practice exam" before an impending test. Feeling less than confident in her own aptitude in the subject, she agreed, and took the test he offered.

But when it was time to take the real class exam, she found it was identical to the practice test. "And I knew exactly what he wanted in return," she said.
"What did you do?" asked Totenberg.
Ginsberg responded: "I went to his office and said, 'How dare you? How dare you do this?' And that was the end of that."
"I assume you did quite well on that exam," said Totenberg.
"I deliberately made two mistakes," Ginsburg answered, laughing.
Rolling Stone reported that:
Ginsburg also mentioned the pay discrimination she experienced as a law professor at Rutgers Law School. When she found out how much she was making versus a male colleague who had been out of law school for the same amount of time, the dean told her, "Ruth, he has a wife and two children to support. You have a husband with a good paying job in New York."

In response, Ginsburg and several women at Rutgers got together and filed an Equal Pay Act complaint, which the university eventually settled.
NPR News concluded their article, reporting that:
At age 84, Ginsburg is going strong. She is revered in popular culture and said she enjoyed actress Kate McKinnon's portrayal of her on Saturday Night Live. "I would like to say, 'Ginsburn' sometimes to my colleagues." When asked how much longer she'll stay on the job, she assured the audience, "as long as I can do the job full steam, I will be here."
You can watch Ginsberg discussing her #MeToo moment in the clip below, and you can go here to view a recent far-reaching interview.
(Visited 1,021 times, 1 visits today)