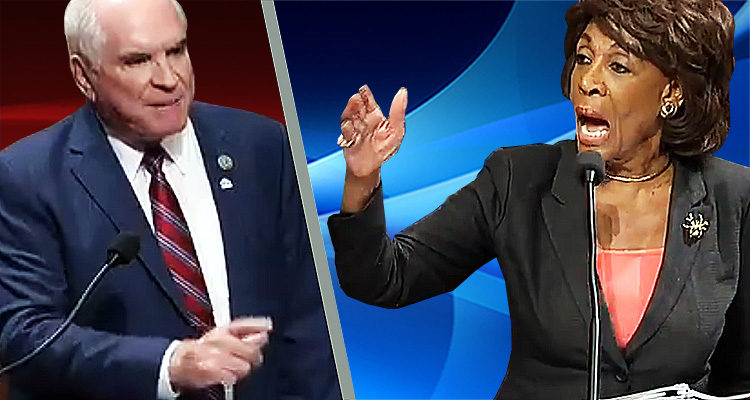 Democratic Congresswoman Maxine Waters fought back with a vengeance when "Make America Great Again" spewing Republican congressman tried to silence her.
Maxine Waters schooled a MAGA-spouting Republican who tried to interrupt her.
All hell broke loose on on Wednesday in the hallowed hall of the House of Representatives when Democratic Rep. Maxine Waters unleashed a furious rant on a Republican colleague.
Here's how lifestyle magazine Elle described the incident:
Hello and welcome to another edition of America's favorite game show, They Really Tried It, with your host, Representative Maxine Waters. Today's contestant is Rep. Mike Kelly of Pennsylvania (R) who, on Tuesday, took it upon himself to point his finger at Rep. Waters, shake it like a Polaroid picture, and tell her to stop talking about discrimination…. Kelly attempts to call Waters out but it goes straight to voicemail. Waters, in turn, reminds him and all of us, just who she is.
The incident occurred during a debate held by the House Financial Services Committee about whether to repeal an Obama-era rule banning racial discrimination by auto lenders.
During the debate, Kelly tried to scold Waters, telling her: "We're trying to make America great every day and every way and the best way to do that is to stop talking about discrimination and start talking about the nation. We're coming together as a people in spite of what you say."
Waters responded quickly telling him: "The gentleman, Mr. Kelly, please do not leave. I want you to know that I am more offended as an African-American woman than you will ever be. And this business about making America great again, it is your president that's dividing this country and don't talk to me about the fact that we don't understand."
Kelly interrupted her asking: "would the gentlelady yield?"
"No, I will not yield, no I will not yield," Waters responded. "Don't tell me we don't understand, that's the attitude given toward women time and time again."
Committee chair Tom McClintock (R-CA) briefly interrupted Waters directing her to address her comments to the chair.
Fired up Waters ignored that directive and turned her attention back to Kelly. "Don't you dare talk to me like that and think that somehow women don't understand what goes on on the floors of automobile dealers," the retorted.
McClintock interrupted her, telling her again to direct her remarks to the committee chair.
Waters shot back: "You did not interrupt [Kelly] when he was making those outrageous remarks about him knowing more about discrimination than I know about discrimination. I resent that, and I resent the talk about making America great again. He's down here making a speech [about] this dishonorable president of the United States of America."
Kelly again interrupted, asking her to yield her remaining time to him.
Waters shot back: "no I don't yield, not one second to you. Not one second. Not one second to you."
You can watch the fiery exchange, below, courtesy of the House Financial Services Democrats:
Yesterday, on the House floor, RM @RepMaxineWaters had #notonesecond for Republican efforts to undermine anti-discrimination policies. Watch ⬇ pic.twitter.com/n36Gh2Msbg

— Financial Svcs Dems (@FSCDems) May 9, 2018
(Visited 4,363 times, 1 visits today)