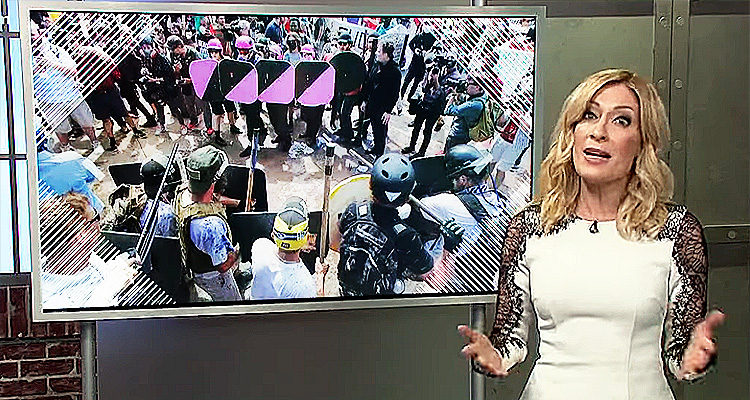 The "white civil rights rally" is set to occur on the one-year anniversary of the deadly rally in Charlottesville, Virginia, that left one person dead and injured dozens of others.
The Washington Post reported that: "An organizer of last year's deadly white-supremacist gathering in Charlottesville has received initial approval from the National Park Service to hold a rally across from the White House on Aug. 12, the anniversary of last year's event."
Jason Kessler, who organized the "Unite the Right" rally in Charlottesville with Richard Spencer and other white-supremacist leaders, submitted a National Mall Special Event permit request on May 8 to hold a "white civil rights" rally in Lafayette Square "protesting civil rights abuse in Charlottesville."

The Park Service approved the request but has not yet issued a permit….

Hundreds of white-nationalist marchers engaged in violent clashes and street battles with counterprotesters at last year's rally in Charlottesville while police initially stood by and the fights accelerated. Later that day, after the rally had been shut down by law enforcement, authorities said that James Alex Fields Jr., a self-identified Nazi, drove his car into a throng of anti-fascist marchers, killing 32-year-old Heather Heyer and injuring dozens of others.
Washington D.C. television station WUSA-9 first reported on the event and spoke with Kessler.
"This year we have a new purpose," Kessler said. "That's to talk about the civil rights abuse that happened in Charlottesville, Virginia last year."
Continuing, Kessler blamed the city of Charlottesville and counter-protesters for last year's violence, telling WUSA-9 that: "It wasn't the fault of my group that that stuff happened."
However, Tracye Redd with Black Lives Matter DC disagreed with Kessler's claims that he and his people were the victims.  "That whole narrative that we started the violence is a myth," Redd told WUSA-9.
Continuing, WUSA-9 asked Kessler if he could understand people getting upset with the idea of an anniversary rally.
He responded, "to be honest, I don't think it is mostly black or Hispanic people that are offended by these rallies."

Kessler explained that he believes Democrats in higher education and politics target minority groups to get them upset about the views of far-right groups he is associated with.

"This rally is not about opposing you. This is about us. This is about white people and standing up for our rights," Kessler said.
WUSA-9 concluded their report noting that Kessler had originally applied for a permit to the city of Charlotteville for the anniversary rally, a request that was denied last year "and Kessler filed a federal lawsuit against the city to have the protest."
Below is a news clip from WUSA-9 and you can click here to see Kessler's permit application filed with the National Park Service.
(Visited 766 times, 1 visits today)