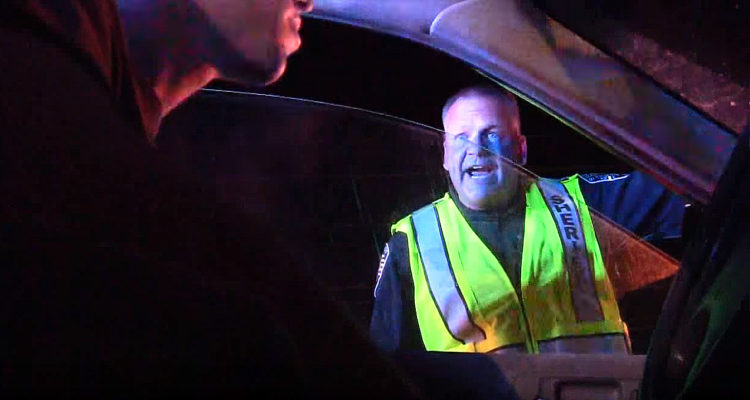 This was recorded on July 4th, 2013 in Tennessee at a "DUI checkpoint," and note that almost every step of the way, the cops violated this man's constitutional rights without skipping a beat.
The clip itself is rather scary to watch — the first cop, Deputy A.J. Ross, gets so pissed off so fast, you could imagine this escalating into guns being drawn and much more. And that's with the citizen, 21-year-old Chris Kalbaugh, involved being as courteous and polite as he could be.
Rutherford County Sheriff Robert Arnold spoke out about Deputy Ross a few days later, stating that "No, he did not trash his constitutional rights," adding that the stop and subsequent vehicle search were justified, as Kalbaugh refused to roll down his window. "That's probable cause to ask the gentleman to pull over to the side of the road," said Arnold.
Following up on the incident, The Tennessean reported that Sheriff Robert Arnold said Deputies Ross and Hoekstra found two marijuana seeds and marijuana shakings in Kalbaugh's car but went ahead and released him without any charges.
Kalbaugh disputed that claim saying
"I have never had any drugs in my vehicle whatsoever. What they were referring to was the typical junk that collects in cup holders and whatnot.

"Them simply saying something 'kind of looked like residue' is not real proof of any actual drugs."
Local radio station WMOT reported that on July 11, 2013: "The Rutherford County Sheriff's office released a press statement saying that it had investigated the incident and concluded its deputy acted appropriately."
"He didn't violate anybody's rights," Sheriff Arnold said. "He did his job."
USA Today reported that this wasn't the first time that Deputy Ross has had work-related trouble.
A Rutherford County Sheriff's deputy at the center of a controversy tied to a videotaped DUI checkpoint stop has in the past drawn the scrutiny of his superiors and once resigned from the office, a review of disciplinary records shows.

[…]

Sheriff's office records show that Arnold rehired Ross in November 2010, six years after the deputy resigned amid accusations that he lied about whether he had auto insurance after an accident.

[…]

The office also suspended Ross for three 10-hour shifts for failing to appear in general sessions court in August 2003 for a DUI citation he issued, the disciplinary records show.
As an interesting side note, Deputy A.J. Ross was subsequently chosen by the Rutherford County Sheriff's Department Deputy A.J. Ross as their "Deputy of the Year" for 2013 according to a report by local radio station WGNS.
However, the story didn't have such a happy ending for Sheriff Robert Arnold.
The Daily News Journal reported in May 2017 that:
Rutherford County's convicted ex-sheriff Robert Arnold will spend about four years in prison for illegally selling electronic cigarettes to Rutherford County inmates, U.S. Judge Marvin Aspen ruled Thursday.

"That will punish you adequately," said Aspen,  who decided Arnold must serve 50 months concurrently for three felony counts. The punishment includes eight months for time served before sentencing and an additional 42 months at the Federal Correctional Institution in Memphis.
Watch, and for a helpful article on what to do if you're stopped by the cops, check this out. It is pertinent to know that since this video was made, the Supreme Court has ruled on the constitutionality of DUI checkpoints. Hint: They are not prohibited, but it still helps to assert your rights like this guy does — especially if you come across an angry cop who doesn't like smart, well-informed people.
(Visited 3,875 times, 1 visits today)