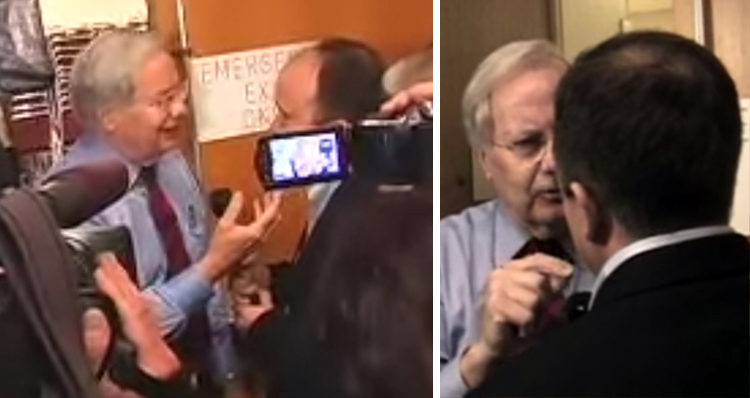 A Fox News producer ambushed Bill Moyers, but got a taste of his own medicine when Moyers turned the tables on him on camera back in 2008. 
At the National Conference for Media Reform 2008, former Fox News host Bill O'Reilly's producer Porter Berry ambushed Bill Moyers, peppering him with questions regarding his political affiliations and his "refusal" to appear on O'Reilly's show.
Berry accused Moyers of not "having the courage" to come on the O'Reilly Factor.
Bill Moyers replied, "I will come on Bill O'Reilly's show after he accepts my invitation to come on my show, unedited, a whole hour."
"I'll give him a whole hour," he continued, adding: "but let's see if that message gets on the air."
Bill Moyers makes Berry look like the fool he is; and the best part is that other journalists, including Uptake political correspondent Noah Kunin, were on hand to film the entire incident.
True to form, as Think Progress reported at the time, O'Reilly only played a small segment of the incident the following Monday and used the clip as an opportunity to launch an attack on Moyers.
Unsurprisingly, O'Reilly chose to air only a tiny portion of the ambush on his show Monday night. He praised Berry's performance, saying "he handled himself well." O'Reilly's "body language expert," Tonya Reiman, agreed, saying that Barry "handled himself beautifully." Unsurprisingly, O'Reilly used the segment to launch personal attacks on Moyers.
Continuing, they concluded:
"Now, it doesn't matter what he says. It's just pure rank propaganda."
"Isn't that rude? No, really?"
"Look, he's a real fanatic, this Moyers. He's like a crazy guy."
"Moyers is scary."
Here is one angle of the incident:
You can watch an unedited video, below, taken from a completely different angle:
Epilogue
Bill O'Reilly was ultimately fired from Fox News on April 19, 2017 amid controversy surrounding numerous allegations of inappropriate conduct.
The News York Times, reported at the time that:
Bill O'Reilly's reign as the top-rated host in cable news came to an abrupt and embarrassing end…  as Fox News forced him out after the disclosure of a series of sexual harassment allegations against him and an internal investigation that turned up even more.

Mr. O'Reilly and his employers came under intense pressure after an article by The New York Times on April 1 [2017] revealed how Fox News and its parent company, 21st Century Fox, had repeatedly stood by him even as he and the company reached settlements with five women who had complained about sexual harassment or other inappropriate behavior by him. The agreements totaled about $13 million.
Porter Berry continued working for Fox News after O'Reilly's departure, first as the executive producer for Sean Hannity and most recently as the Vice President and Editor-in-Chief of Fox News' digital-content platforms.
On December 16, 2017 Bill Moyers signed off from his website, BillMoyers.com.
Deadline Hollywood reported at the time about the event:
Moyers is most identified with PBS, where he hosted several news shows before his broadcasting retirement. He also served stints at NBC and CBS, produced numerous documentaries, and served as press secretary in the Lyndon Johnson administration. He was inducted into the Television Hall of Fame in 1995 and won more than 30 Emmys during his career.

In a note posted to his web site billmoyers.com and titled "Farewell," Moyers did not explicitly mention retirement, but noted his age, 83.
(Visited 7,807 times, 1 visits today)