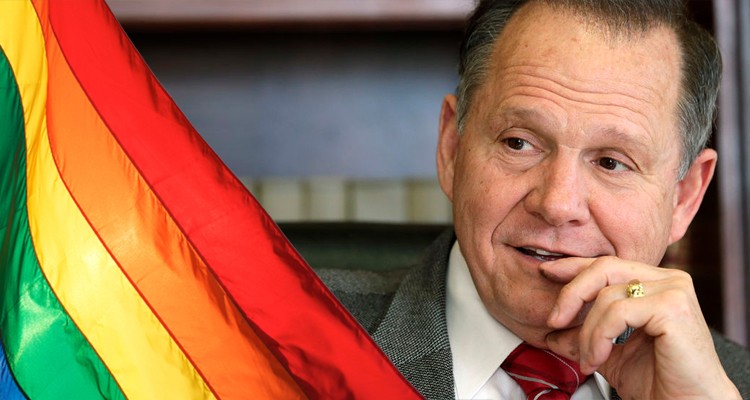 Conservatives are flipping out over news that The Birmingham News, Alabama's largest newspaper, published a Readers Poll on Sunday asking "Is Roy Moore a Closeted Homosexual."
The poll, created by news commentator Kyle Whitemore, was in response to recent controversy surrounding a January 23rd ruling by U.S. District Judge Callie Granade, who ruled the state's constitutional ban on same-sex marriage was unconstitutional. She issued a stay to her order until Monday, February 9th.1
Whitemore wrote in the poll which was also published on their online site, AL.com
So, there's only one question left.

Is it whether gay marriage will happen in Alabama?

Please. Already, almost three quarters of the people in this country live in states where same-sex marriage is legal already. Do you think Alabama is going to suddenly change the minds of federal judges, including the United States Supreme Court which has already all but waved a rainbow-checkered flag at the finish line? If the high court didn't intervene with Florida, it won't for Alabama. Don't be ridiculous.

Can the state say to hell with the federal government and do its own thing?

See: Civil War.

And: Civil Rights Movement.

And also: Pretty Much Every Federal Court Action against Alabama in 150 years.

Will The Apocalypse come?

Maybe one day, but nothing yet. You might see some roadside church signs telling you that this is the sign of the End Times, but let's be real. ISIS is setting people on fire. Which do you think is worse? That or same-sex marriage?….

Nope, there is only one question left for me.

Is he [Chief Justice Moore] a gay?

I'm sorry, but think about it. No really. At least Google it. How many politicians who have stomped their feet over this issue turned out to be … sexually bipartisan? There have been many.

What's one Moore?
I was going to hell already, right? http://t.co/LzrbzuKI1L Readers Poll: Is Roy Moore protesting too much? #alpolitics

— Kyle Whitmire (@WarOnDumb) February 9, 2015
The conservative website MRC has already jumped all over The Birmingham News poll writing:
Liberals apparently love this question, because the poll results are 71 percent yes, 6 percent no, and 22 percent "Maybe, but just that one time in college." It probably won't be shocking to note that Whitmire was a stringer for The New York Times for seven years (2005-12).

[…]

Like many liberals, Whitmire thinks there are two political ideologies, Smart and Dumb.
Below is a sampling of comments from MRC: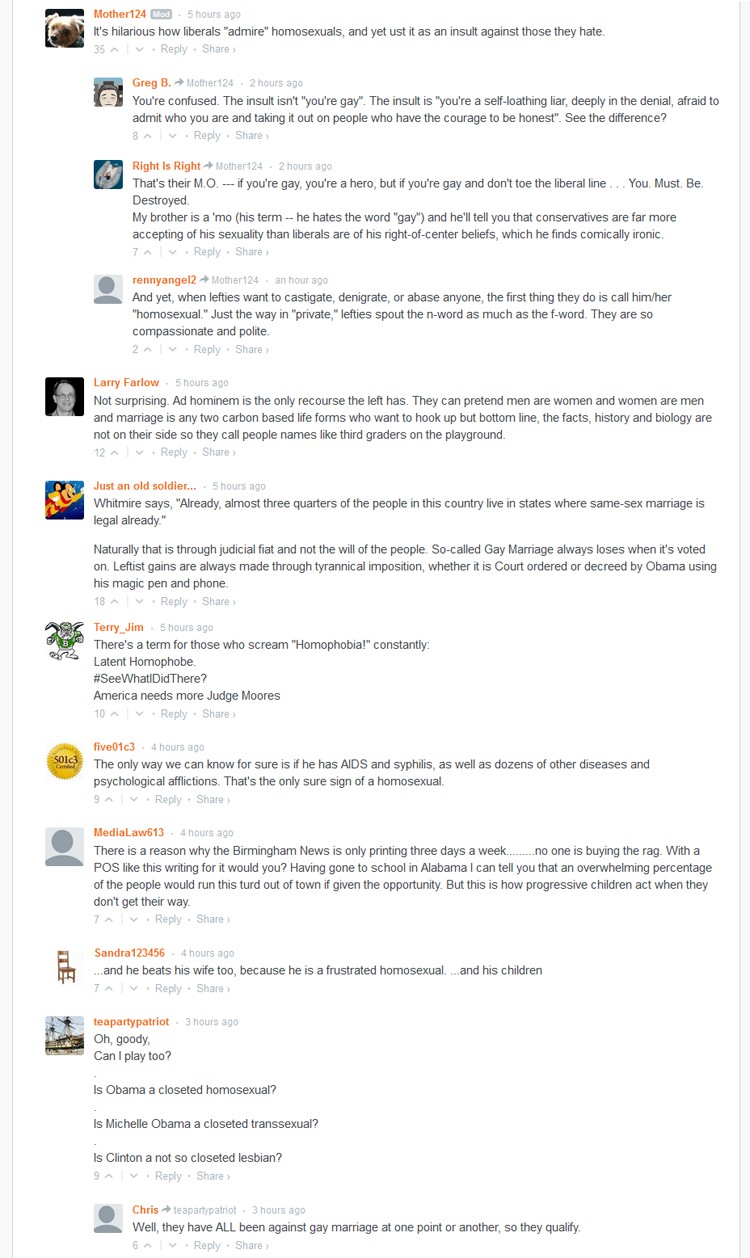 ---
Footnote:
1. With hours left before Alabama was to become the 37th state where gays can legally wed, Alabama Chief Justice Roy Moore set the stage for a possible showdown  with the federal courts by issuing a letter to probate judges ordering them to comply with existing state law and to refuse to issue same-sex marriage licenses.
The Southern Poverty Law Center has already filed two complaints against Moore with the Judicial Inquiry Commission about a letter he wrote to Gov. Bentley advising him to defy the federal court order, as well as a 27-page memorandum sent to probate judges instructing them that marriage licenses for same-sex couples are illegal under Alabama law.
(Visited 14 times, 1 visits today)