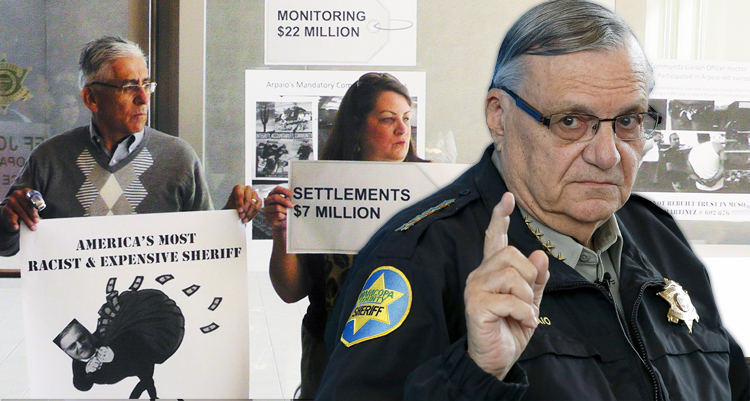 What's the going price for racism these days? In Arizona's Maricopa County, "$40 million taxpayer dollars is what Maricopa County supervisors say Valley residents must pay for Sheriff Joe Arpaio's racial profiling lawsuit" according to a Monday news report by KPHO.
Unfortunately, that figure is only a rough estimate of the costs needed in order to comply with orders by U.S. District Court Judge Murray Snow.
Judge Snow initial ruling from May 2013 determined the Sheriff's Office engaged in systemic racial profiling of Latinos through its immigration-enforcement policies.
The law-enforcement agency must now undertake a variety of measures — everything from beefing up staffing and technology to improving training and public outreach — to assure the practice is permanently stopped.
But that will come at a cost. Maricopa County Supervisor Steve Gallardo spoke candidly with reporters hours after he and other board members approved the tentative budget for 2016 this week.

"It's unbelievable. It's unconscionable that we're spending this much money," said Gallardo. "These are taxpayer dollars that we should be spending on other projects in Maricopa County," he added.
KPHO reports that
The tentative 2016 budget includes $23.8 million. And if you add the 2015 budget of more than $17 million, taxpayers are looking at shelling out nearly $40 million. It's the the cost of defending the department, and that number is likely going to be higher when it's all said and done. Gallardo says there's nothing they can do about it to protect the taxpayer. "We don't have an alternative; we can't turn around and tell a federal judge no that we are not going to comply with his orders," he said.
The Sheriff's Office dismissed Gallardo's statements, saying: "The supervisor's always been a critic."
Maricopa Country residents will vote on the final budget in mid-June.
You can watch a news clip, below, regarding Sheriff Joe's financial burden on the citizens of Maricopa County from The Young Turks:
(Visited 37 times, 1 visits today)