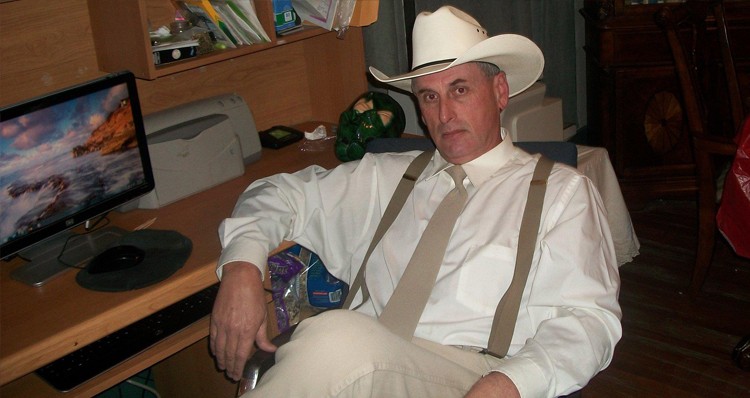 A known white supremacist and former correctional officer posted a six-minute video rant on Tuesday calling for violence against black anti-police activists.
Nathan Ener, who worked as a Texas Department of Criminal Justice officer until 1999, encouraged viewers to attack black protesters with firearms, rocks and slingshots and promised to hunt them down to their homes.
The Houston Press reported that Ener was using the video rant as a means of "expressing his rage over the murder of Harris County Sheriff's Deputy Darren Goforth, who was executed while gassing up his cruiser in a northwest Harris County Chevron station. Authorities say the killer is 30-year-old Shannon Jaruay Miles, a man with a history of mental illness whose skin color and alleged crime somehow, according to Harris County Sheriff Ron Hickman and others, ties him to the #blacklivesmatter movement."
Ener can be heard in the video warning: "You'd better run and you'd better hide," he said. "Because we're looking at videos, we're looking, pulling names and addresses and we're going to hunt you sons of [expletive] down."
At one point, Ener tells "grandmas" and children to purchase slingshots if they cannot use a firearm, telling them: "Get you some [expletive] rocks and when they come out in that street we'll give you a few minutes to pepper their [expletive]," adding: "You light them up like they'll have mumps or measles when they go home with all the bumps and knots all over."
Later in the video, Ener pulls out a shotgun and cocking it warns: "that sound will be the last thing some of you sons of [expletive] will hear is that noise right there when we come in your [expletive] house."
He also had a warning for law enforcement, telling them: "Law enforcement, I'm talking to you now. When we get there, and we're going to be there, step aside. Do not try to stop us because our fight is not with you, it's for you.
Ener deleted the video from his Facebook page where it originally appeared, but you can watch a copy that was preserved by The Benjamin Dixon Show, below:
(Visited 58 times, 1 visits today)