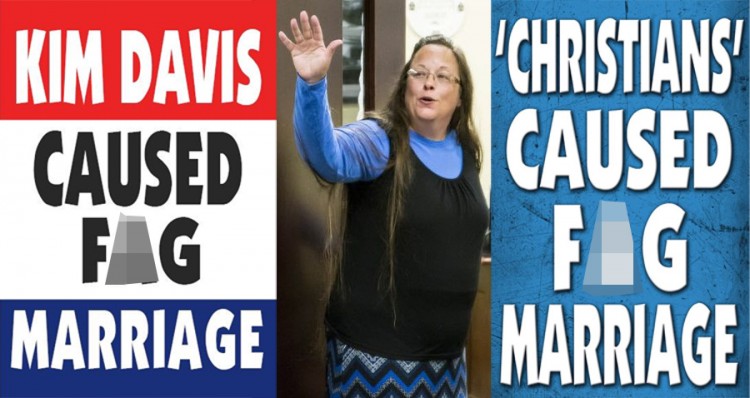 One would think that they would be the best of friends – the #GodHatesFags people at the Westboro Baptist Church and Kim Davis, the Kentucky clerk sitting in jail for refusing to issue same-sex marriage licenses.
Davis has been in jail since last Thursday after District Court Judge David Bunning found her in contempt of court and ordered her held until she complies with his order to grant marriage licenses.
Members of the extremist group Westboro Baptist Church have launched a Twitter attack on Davis, threatening to go to Kentucky to protest against her for being an adulteress for being married 4 times to three different men, as well as for causing "F*g marriage" through her sinful ways.
Below is a sampling of some of their anti-Davis tweets:
Cognitive dissonance is "Christians" condemning the #SSM they caused with sanctioned adultery (divorce/remarriage).https://t.co/MAGu9qfxFV

— Westboro Baptist (@WBCSaysRepent) September 6, 2015
Let's lay it down plain:A fag can stop being a fag; & #KimDavis can leave the man with whom she lives in adultery.THEN talk about repenting.

— Westboro Baptist (@WBCSaysRepent) September 5, 2015
It's time to pack this sign and visit Kentucky — land of the phony divorced/remarried traitors to God. #NotChristian pic.twitter.com/ztt0A26dbB

— Westboro Baptist (@WBCSaysRepent) September 5, 2015
What if a clerk denied #KimDavis a license for her 2nd/3rd/4th marriage because Christ calls it adultery?

— Westboro Baptist (@WBCSaysRepent) September 4, 2015
Phony Christians like Kentucky clerk Kim Davis CAUSED same-sex marriage! #JustSayin http://t.co/CdQVMv4nEg

Cc: @SethMacFarlane

— Westboro Baptist (@WBCSaysRepent) September 3, 2015
(Visited 44 times, 1 visits today)