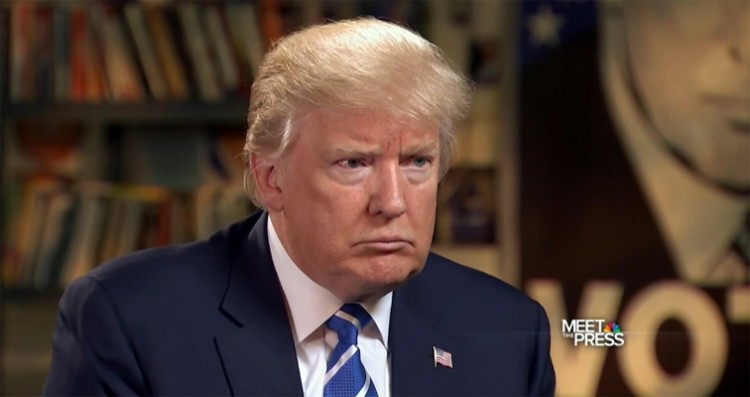 Republican presidential front-runner Donald Trump was interviewed – yet again – by NBC's Chuck Todd on Sunday's edition of "Meet the Press."
During the course of the interview, Todd referenced a recent remark Trump made during a recent CNBC interview with Chief White House Correspondent John Harwood.
Harwood asked Trump during the October 1st interview: "If you face the prospect of losing primaries, would you decide that – and you are not winning anymore – would you decide to step away at that point?"
"Well, I'm not a masochist," Trump responded. "If I fell behind badly, I would certainly get out. I'm in this for the long haul," he continued. "That doesn't mean someday I don't wake up and I say, 'Wow, I'm really tanking.' Well, if I tank, sure, I go back to the business. Why wouldn't I?"
Confronted with essentially the same question by Chuck Todd, Trump responded:
A lotta people have asked me that question. Number one, I'm not a masochist. And if I was dropping in the polls where I saw that I wasn't gonna win, why would I continue? And it's funny. Maybe it's, like, not like me because it's the power of positive thinking– I'm a very positive person, I'm a positive thinker– but the truth is, I'm a realist. I'm doing great in the polls right now, I think you will say. I'm not saying anything. I'm leading everything, right?

[…]

I believe in polls. How many elections do you see where the polls were wrong? Not that many. Okay. You see 'em, but not that many. If I were doing poorly, if I saw myself going down, if you would stop calling me 'cause you no longer have any interest in Trump because "he has no chance," I'd go back to my business. I have no problem with that.
Here's the thing: according to brand-new NBC News/Wall Street Journal/Marist polls Trump is falling in the polls.
NBC News reports that "in New Hampshire, Trump now holds a five-point advantage over Carly Fiorina among GOP primary voters, 21 percent to 16 percent – followed by Jeb Bush in third at 11 percent, and Marco Rubio and Ben Carson tied at 10 percent each" and "in Iowa, Trump is ahead of Carson by five points among potential GOP caucus-goers, 24 percent to 19 percent – with Fiorina in third at 8 percent, Bush at 7 percent, and Ted Cruz, Rubio and Bobby Jindal tied at 6 percent."
However, "a month ago, Trump's lead over the nearest competition in the Granite State (John Kasich) was 16 points, 28 percent to 12 percent" and "Trump's lead over Carson in Iowa was seven points in the same poll, 29 percent to 22 percent."
Not only that: a new Quinnipiac University National poll released last week shows that Americans prefer Donald Trump by a margin of over 2-to-1.
You can see the list of individuals and organizations polled, by popularity, as reported by NBC News, and you might note that with a net rating of +16 Planned Parenthood beats out Donald Trump's -33 by a margin of over 2 to 1. (You might also note that Trump is at the bottom of the list.)
Planned Parenthood (47 percent positive, 31 percent negative, net +16)
Joe Biden (40 percent positive, 28 percent negative, net +12)
Bernie Sanders (32 percent positive, 22 percent negative, net +10)
Ben Carson (29 percent positive, 21 percent negative, net +8)
Carly Fiorina (27 percent positive, 20 percent negative, net +7)
Barack Obama (46 percent positive, 40 percent negative, net +6)
The Democratic Party (41 percent positive, 35 percent negative, net +6)
The Black Lives Matter movement (32 percent positive, 29 percent negative, net +3)
Hillary Clinton (39 percent positive, 47 percent negative, net -8)
Jeb Bush (24 percent positive, 39 percent negative, net -15)
The Republican Party (29 percent positive, 45 percent negative, net -16)
Donald Trump (25 percent positive, 58 percent negative, net -33)
(Visited 18 times, 1 visits today)