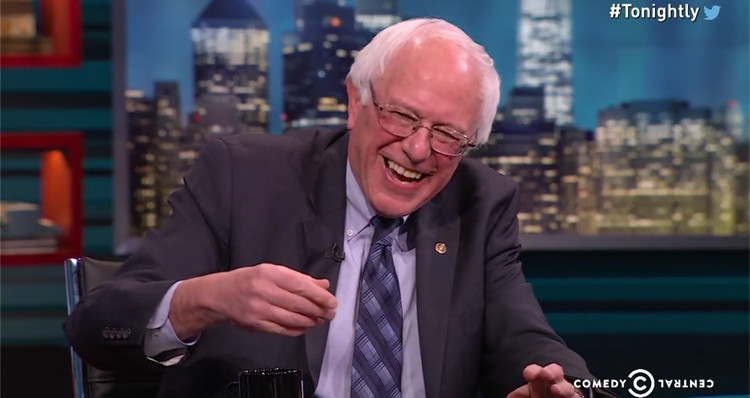 Bernie Sanders just may have hinted that Elizabeth Warren might serve as his running mate.
There has been a lot of speculation in recent months regarding who Sen. Elizabeth Warren might endorse for president.
Last July, Liberals Unite reported that Sen. Elizabeth Warren wasn't ruling out the idea of joining Democratic presidential hopeful Bernie Sanders on the campaign trail.
Fast-forwarding to this week, Sanders made an appearance on "The Nightly Show with Larry Wilmore" and the subject of his potential running mate came up during the discussion.
JORDAN CARLOS, PANELIST AND REPORTER: "A lot of people would like to see you run with someone that rhymes with Elizabeth Schwarren "
LARRY WILMORE, HOST: "Have you put some thought in your running mate — Would you ever hint at something like that?"
BERNIE SANDERS: "Now the last time I was here you got me to say that I was thinking about running and now you want…"
LARRY WILMORE: "Something else is coming out!"
GRACE PARRA, CO-HOST: "Yeah! Let's hear it!"
BERNIE SANDERS: "Elizabeth Warren is a very good friend of mine, I have known her for a long time, before she was in the Senate. She is a great US Senator. She has stood up to Wall Street. She has stood up to the Big Money interests. So, she uh, she and I will work together"
GRACE PARRA: "I love that!"
(CHEERS)
LARRY WILMORE: "Feel the Bern everyone!"
You can watch the clip, below:
(Visited 85 times, 1 visits today)