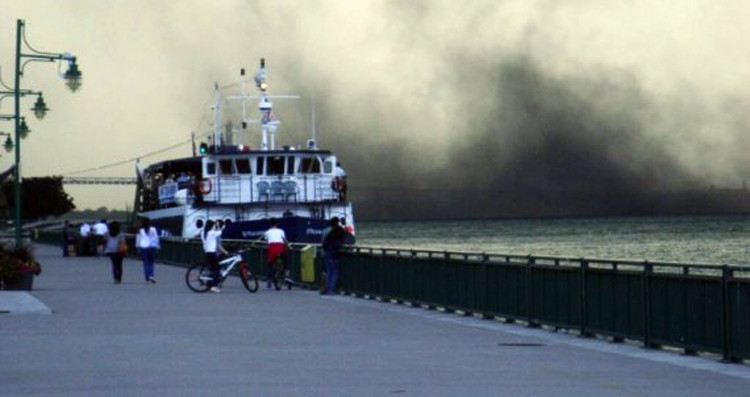 The Koch Brothers Behind Massive Poisonous Cloud In Detroit
By now, most everyone is aware of the national disaster in Flint, Michigan regarding the contamination of its water supply.
As Ann Werner reported earlier this month, "In April of 2014, in order to save money, the unelected emergency manager in Flint, who was appointed by Republican Governor Rick Snyder, switched the city's water source from Lake Huron to the Flint River. It is well known that the water in the Flint River is severely polluted, but that made no difference."
Complaints from residents about the water commenced almost immediately. The water coming from their faucets was cloudy, had a foul odor and tasted terrible. City and state officials ignored the complaints and denied there was anything wrong.
Now that the poisoning of an American city has come to the attention of the national media, Governor Rick Snyder says he's sorry and, in a too little too late move, has declared a state of emergency in Genesee County. There has been a huge public outcry and calls for the arrest and prosecution of Snyder and other city and state officials for their part in the egregious crime that has been and is still being committed against the citizens of Flint. The Justice Department is investigating. But Snyder and the rest who have shown such disdain for the people of Flint are still walking free – even as the residents of that city are dealing with a disaster of unparalleled proportions.
Unfortunately, this is not the first time Michigan residents have fallen prey to toxic poisons. Back in July of 2013, an amateur video by Randy Emerson, a member of the Windsor on Watch citizens environmental group, was released showing a huge cloud of petroleum coke (pet coke) — taken from Canadian tar sands — after a windstorm kicked it loose. This pile of pet coke was being illegally stored along the Detroit River by Koch Carbon. You can see a mother with kids playing in the background, blissfully unaware that this stuff can cause serious problems because analysis shows it contains lead, sulphur, zinc, and possibly vanadium, a known carcinogen.
The Environmental Protection Agency (EPA) defines pet coke as "a solid carbon material that resembles coal; it is a product of oil refining." According to the EPA: "Significant quantities of fugitive dust from pet coke storage and handling operations present a health risk. EPA is particularly concerned about particles that are 10 micrometers in diameter or smaller (referred to as PM10), because those are the particles that generally pass through the throat and nose and enter the lungs. Once inhaled, these particles can affect the heart and lungs and cause serious health effects."
Those clouds were discovered to have been happening for months, but nothing had been done about it. Typically, the pet coke is simply moved to somewhere down or up river and stored in another hard-hit Midwestern community that has no idea what's in it when these type of events are discovered.
Midwest Energy News reported a few months later that "After Mayor Dave Bing ordered the Detroit petcoke piles gone and Michigan legislators introduced bills, the Detroit piles were reportedly moved to Ohio."
The New York Times revealed that some petcoke from Detroit is being shipped to power plants in Nova Scotia in what it called "something resembling a bottle return program" — since the tar sands came from Canada. According to the Times, one of the world's largest dealers of petcoke is the Oxbow Corporation, owned by William Koch.
This is the future of our cities if we don't get out there and take them on. And for those that don't see it that way and think corporations should be able to do whatever they want to our neighborhoods…nothing to see here. Go ahead, walk into the dark cloud and breathe deep.
You can watch the amateur video of the poisonous cloud, below:
(Visited 148 times, 1 visits today)