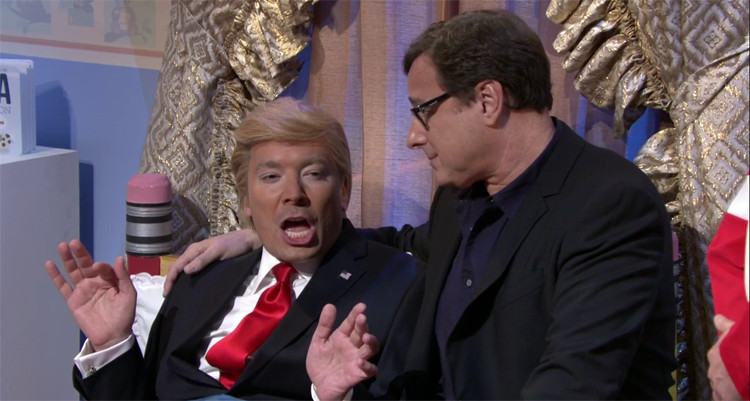 Jimmy Fallon steps out as Donald Trump again – this time meeting the reunited cast of Full House.
Late Night's Jimmy Fallon donned his Donald Trump persona again to meet with the cast of Netflix new series Fuller House, an upcoming sitcom and sequel to the 1987-1995 series Full House.
Most of the original cast members from Full House are set to reprise their roles – some as regulars and others making special appearances. The show will appear on Netflix and debuts on February 26, 2016.
Trump, played by Fallon, asked the cast "Who wants to see something form the '90s come back in 2016?" – a reference both to the original show and to the possibility of a second Clinton presidency.
As TV Line reported, "Bob Saget, John Stamos, Dave Coulier, Lori Loughlin, Candace Cameron Bure, Jodie Sweetin and Andrea Barber stopped by Michelle Tanner's Trump's bedroom for a heartfelt talk with the GOP front-runner, who fears he might be considered a loser should he fail to secure the Republican nomination in the race for President of the United States."
Mary-Kate and Ashley Olsen, who alternated in the role of Michelle Tanner on Full House, are the only main cast members not reprising their role in the series.
"Trump worked overtime to garner the Tanners' vote before it was time to go to sleep, promising a huuuuuuge wall to keep Kimmy Gibbler out should he be elected our next commander-in-chief," TV Line continued, adding that "It's no wonder everyone was up for a good ol' fashion sing-along before calling it a night."
Watch and enjoy:
(Visited 14 times, 1 visits today)