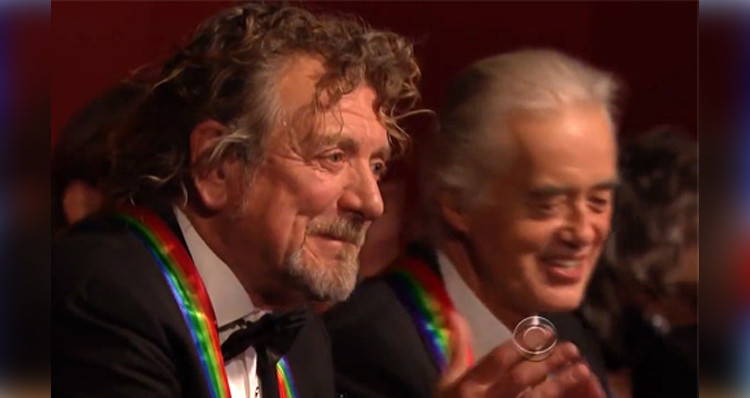 The Led Zeppelin classic began with Ann and Nancy Wilson of Heart performing the song with the original drummer's son, Jason Bonham, on drums.
On Dec. 26 the 2012 Kennedy Center Honors was aired on national television for the first time on CBS. During the event, which took place at the Kennedy Center Opera House, Ann Wilson and Nancy Wilson of Heart performed Led Zeppelin's "Stairway to Heaven" with Jason Bonham on drums.
The honor is given to those in the performing arts for their lifetime of contributions to American culture and in 2012 the surviving members of Led Zeppelin (John Paul Jones, Jimmy Page and Robert Plant) were among those honored. During their segment, the Foo Fighters performed "Rock and Roll," Lenny Kravitz performed "Whole Lotta Love," and Kid Rock performed both "Babe I'm Gonna Leave You" and "Ramble On".
The performance of "Stairway to Heaven" began with Ann and Nancy Wilson of Heart performing the song with a backing band, which included Jason Bonham on drums. He is the son of Led Zeppelin drummer John Bonham, who passed away in 1980. As the song progressed, back-up singers, a string section, and the Joyce Garrett Youth Choir came on stage to help perform "Stairway to Heaven".
The choir members and Jason Bonham were wearing bowler hats, which was a tribute to the band's late drummer John Bonham. Throughout the performance lead vocalist Robert Plant was noticeably moved, and towards the end of the song he had tears in his eyes.
Jason Bonham loved the fact that Led Zeppelin didn't know he'd be drumming on Stairway To Heaven at their Kennedy Center tribute night, hosted by US President Barack Obama. Bonham performed with Heart and an all-star band — and the first Plant, Page and Jones knew of it was when they saw him walk on stage.
He said: "It was so incredible to see their faces, sat there next to the president. The guys knew who was playing — but they didn't know I would be on drums. Their faces lit up, and the smiles and tears… It was fantastic. What a way to close the show!"
(Visited 6,536 times, 1 visits today)