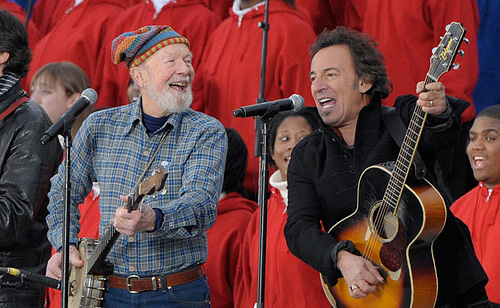 Saying our goodbyes to a great American icon: Pete Seeger….
Pete Seeger, the American troubadour, folk music singer and activist, has died at a hospital in New York. He was 94.
Born in New York City into an artistic family, his mother, Constance, played violin and his father, Charles, a musicologist, was a consultant to the Resettlement Administration, which gave artists work during the Depression.
He first gained fame as a member of the Weavers in 1948, and the quartet went on to have hits with their versions of songs including Goodnight Irene. Later in the 1960s folk revival he performed with Bob Dylan and, more recently, with Bruce Springsteen.
Below is a clip of him rehearsing the Woodie Guthrie Classic, "This Land Is Your Land," along with Bruce Springsteen, followed by the performance.
Pete Seeger and Bruce Springsteen rehearse on the national lawn in Washington Dc for Obama's 2009 Inauguration.
Seeger and Springsteen performing at Obama's 2009 Inauguration.
(Visited 1,870 times, 1 visits today)