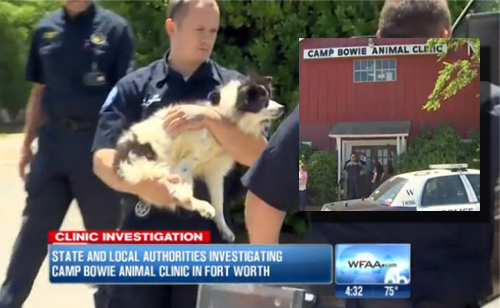 Officials raided a Fort Worth, Texas, veterinarian clinic and removed animals "in a case that's shaking pet lovers to their core," as reported by KHOU Houston.
The popular veterinary clinic, Camp Bowie Animal Clinic, was raided after a family contacted authorities after learning that their dog, that they were told was euthanized, was instead kept alive and used for blood transfusions.
UPI reports that "After learning from the vet, Lou Tierce, that their family dog, Sid, a 5-year-old, 175-pound Leonberger, had congenital spine defect, Jamie and Marianne Harris of Aledo, Texas made the difficult decision to have their pet euthanized."
NBC-DFW is reporting that seven months later vet tech, Mary Brewer, who told them Sid was actually "alive and being used for blood transfusions while being kept in a cage most of the day in his urine and feces."
"I told her, 'He's still here,' and she's like, 'Can he walk?' and I said, 'Yeah, he's here waiting on you. If you came today, he'd walk out and jump in your car,'" said Brewer.

"It was like getting punched in the stomach and then some," said Marian Harris. "This has rocked our world. My kids are like, 'How does somebody do this?' How does this happen?"
Both state and local officials raided Camp Bowie Animal Clinic shortly before 10 a.m. on Tuesday and several pets were seized as evidence and turned over to Fort Worth Animal Care and Control.
According to the Harris' lawyer, Jim Eggleston,  Sid is back with the Harris family and has been treated by another veterinarian. "He could not find a blood vein on this dog," said Eggleston. "There was evidence this dog has been bled — a lot." UPI adds:
Eggleston said there are allegations that more dogs and cats — some with serious illnesses — were also kept alive for blood transfusions and other experimental treatments.
According to Eggleston, the Texas State Board of Veterinary Medical Examiners will meet on the matter in Austin soon and that an investigator for the board is meeting with Fort Worth police and prosecutors on Wednesday to determine what, if any, criminal charges are to be filed. NBC-DFW also reports that the "the Tarrant County Health Department is also involved in the case due to the unsanitary conditions at the clinic."
You can watch news clips, below from NBC-DFW and from KHOU.

Fort Worth Vet Accused of Keeping Dog Alive for Transfusions


Fort Worth animal clinic investigated after abuse claims


(Visited 23 times, 1 visits today)