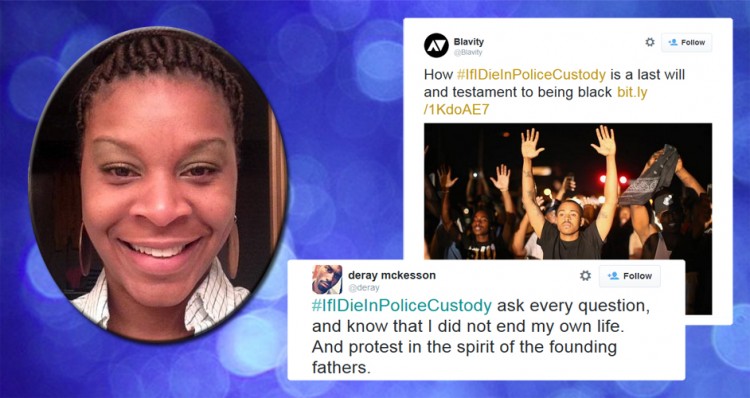 On July 13th 28-year-old Chicago #BlackLivesMatter activist Sandra Bland was found dead in her Waller Country, Texas, jail cell, just three days after her arrest during a traffic stop for allegedly assaulting a public servant.
USA Today reports that "As the story continues to unfold — the arresting officer was just found to have violated his department's procedures — a shadow of doubt has been cast and some have begun to raise questions."
The neighboring Harris County medical examiner ruled her death a suicide by hanging, but family and friends say there is no way Bland would have killed herself, and the family has ordered an independent autopsy.
Already suspicious after a string of recent deaths of unarmed civilians by the police, "social media users are imagining themselves in her place and sharing directives for what to do 'if I die in police custody,'" denoted by the hashtag #IfIDieInPoliceCustody.
Blavity offered a grim overview of the situation, tweeting:
How #IfIDieInPoliceCustody is a last will and testament to being black http://t.co/QhVKmRX3bP pic.twitter.com/25xtDjf1JC

— Blavity (@Blavity) July 19, 2015
Many of the posts called on family and friends to question the circumstances of their death:
#IfIDieInPoliceCustody question everything. Don't believe a word they say. Demand the truth by any means necessary.

— Johnetta Elzie (@Nettaaaaaaaa) July 17, 2015
#IfIDieInPoliceCustody ask every question, and know that I did not end my own life. And protest in the spirit of the founding fathers.

— deray mckesson (@deray) July 17, 2015
Others express concerns about their portrayal in the media:
#IfIDieInPoliceCustody don't let the media portray me as an angry black woman who just had a chip on her shoulder about race.

— Adwoa Asante (@Add_Whoa_Uh) July 18, 2015
https://twitter.com/kingfee901/status/621818990055301121
CNN reports that "The hashtag made the jump into real life Saturday as activists interrupted a Netroots Nation town hall featuring presidential candidates Martin O'Malley and Bernie Sanders" adding that the video below "shows members of activist group Black Lives Matter chanting, 'if I die in police custody … make sure that I'm remembered.'"
If I die in police custody…. pic.twitter.com/R7cqLYFdmW

— BlackOUT Collective (@blackoutcollect) July 18, 2015
Let us know your thoughts in the comments below – what you would want friends and family to say and do if you were to die in police custody.
h/t Lady Grey
(Visited 167 times, 1 visits today)