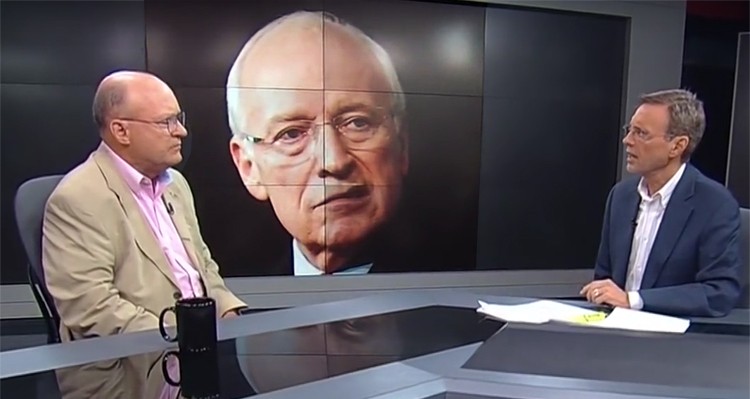 Lawrence Wilkerson, retired United States Army Colonel and former chief of staff to United States Secretary of State Colin Powell, sat down for an interview with Thom Hartmann, host of of RT's "The Big Picture," to discuss Dick Cheney's opposition to the Iran Agreement.
Cheney and his daughter, Liz, have been making the rounds on conservative media outlets criticizing President Obama's nuclear deal with Iran.
Known officially as the Joint Comprehensive Plan of Action, the deal is an international agreement regarding Iran's nuclear program that was signed in Vienna on 14 July 2015 by Iran, the European Union and the P5+1 countries – the five permanent members of the United Nations Security Council – China, France, Russia, United Kingdom and the United States – plus Germany.
Speaking with Hartmann about Cheney's opposition to the peace efforts in Iran, Wilkerson stated emphatically:
Dick Cheney should go away. Dick Cheney has become a profane obscene blemish on the American reputation. Dick Cheney in 1998 as CEO of Halliburton, for example, said dramatically that sanctions don't work. He wanted the sanctions on Iran lifted. He wanted to do business with Iran. Now all of a sudden, Dick Cheney is not just for sanctions – he is for discarding the Iran agreement and essentially going back to sanctions, even more draconian sanctions. Dick Cheney is in a word an "idiot."
Hartmann followed up, stating: "I thought in 1999 Halliburton was doing backdoor deals with Iran."
Wilkerson concurred answering: "Probably. Probably so under Dick Cheney's CEO-ship."
Hartmann responded: "You seem quite emphatic about that," to which Wilkerson replied:
I am as emphatic about that as anything that confronts and challenges and damages this country today. I wish that Dick Cheney and his daughter Liz would go away.  I realize that we have a constitution and a bill of rights that says they have a right to do whatever they want to, but I'm frankly concerned because Dick Cheney ought to be in jail for war crimes. And if he were and if accountability were really achieved in this country, we wouldn't have to listen to him except through prison bars.
Hartmann followed up by asking if Wilkerson's old boss Colin Powell had "similar feelings," but Wilkerson responded that he wouldn't speak for Gen. Powell – that he was much more "calm and equitable" about the situation than he [Wilkerson] was.
Asked by Hartmann if he thought there were others in the administration who felt the same way, Wilkerson responded:
I know there are some. I know there are some at the CIA even who are very angry that no accountability has been achieved over the issue of torture and that we are still frosting over, color-coding, Kool-Aiding, whatever, these reports that are coming out about what the CIA did and didn't do.
You can watch the interview, below:
(Visited 146 times, 1 visits today)