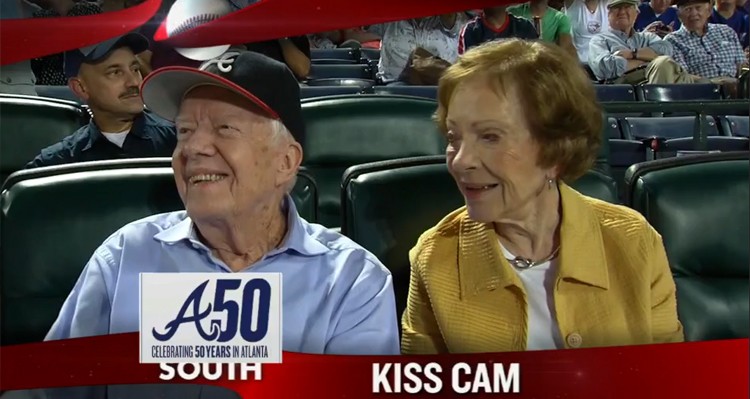 Former Democratic President Jimmy Carter and his wife, Rosalynn, were captured smooching by the Atlanta Braves' "Kiss Cam" while watching the Braves game at Turner Field.
As NBC News reported, "The two were in their usual seats near the Braves dugout during a 5-0 loss to Toronto, and they received a loud cheer when shown on the video board. Carter kissed his wife and then gave a big smile as the cheers continued."
The happy couple has been married since 1946. They have three sons, one daughter, eight grandsons, three granddaughters, and two great-grandsons. They celebrated their 65th wedding anniversary back in July 2011, making them the second-longest wed Presidential couple after George and Barbara Bush.
On August 3, 2015, Carter underwent elective surgery to remove "a small mass" on his liver, and his prognosis for a full recovery was initially said to be "excellent". On August 12, however, Carter announced he had been diagnosed with cancer that had spread elsewhere in his body, without specifying where the cancer had originated. On August 20, he disclosed that melanoma had been found in his brain and liver, and that he had begun treatment with the immunotherapy drug pembrolizumab and was about to start radiation therapy.1
His healthcare is being managed by Emory Healthcare of Atlanta. The former President has an extensive family history of cancer, including both of his parents and all three of his siblings.
The Atlanta Braves posted a video of the kiss on their website.
You can watch their kiss, below:
FOOTNOTE 1: Additional Source – Wikipedia
(Visited 88 times, 1 visits today)