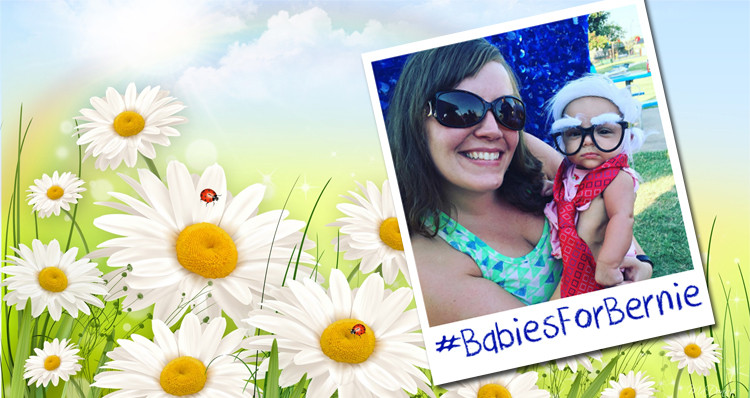 Babies for Bernie, #BabiesForBernie, may not be old enough to vote – but they are doing their part to make their voices heard regarding the upcoming 2016 election.
Noting that "We are parents who want Bernie Sanders to be elected as President of the United States in 2016," the official website explains that "All parents want a better future for their children. Bernie Sanders is going to get us there!"
The website goes on to run through a list of reasons they support Bernie Sanders for president:
Bernie Sanders speaks the truth, stands up for what he believes in and does not pander to anyone.
He is not 'in the pockets' of Wall Street or corporate lobbyists.
He believes in rebuilding America. Literally.
He believes in economic justice and that corporate welfare needs to be stopped.
He believes in workers rights and women's rights.
He believes in racial justice, and that mass incarcerations and racial profiling are wrong and need to stop.
He is an actual trustworthy politician and has the track record to prove it.
The website is selling adult and children t-shirts as well as "onesies" for babies and promises that "Proceeds from these sales will be given directly to the Bernie Sanders campaign and/or will be used to spread the word about Bernie Sanders (tabling, flyers, buttons etc)."
Throughout social media the #BabiesForBernie hashtag is exploding with adorable babies who have been dressed up by their parents to look like the Democratic presidential candidate. be it on Facebook, Instagram or Twitter.
We have selected a few favorites for you to enjoy:
https://twitter.com/IJ_Politics/status/655107724217360384
https://instagram.com/p/85154HKClr/
https://instagram.com/p/8JyXO4JlPa/
https://instagram.com/p/84X64Hx6af/?tagged=babiesforbernie
YOU GO BABY!!!!#BabiesForBernie#BernieSanders #Bernie2016 #FeelTheBern pic.twitter.com/juLed2FBrS

— Deplorable Hippie (@88tipton88) August 21, 2015
All ages feelin' the Bern in Des Moines!#Bernie2016 #babiesforbernie pic.twitter.com/Jlk41H8dWN

— Andrea Petrovich (@ampetrovich) August 19, 2015
(Visited 24 times, 1 visits today)