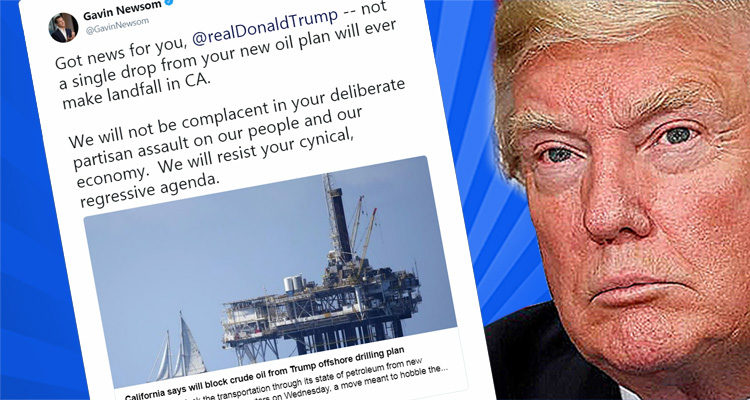 With one of the world's largest economies, California is in a unique position to lead the resistance against Trump and his offshore drilling plans.
The Department of the Interior released a draft proposed program earlier this year that would open up 90% of the Outer Continental Shelf (OCS) for oil and gas leases.
"Today's announcement lays out the options that are on the table and starts a lengthy and robust public comment period. Just like with mining, not all areas are appropriate for offshore drilling, and we will take that into consideration in the coming weeks," Interior Secretary Ryan Zinke stated in the department's announcement.
For those unfamiliar with the term, the Bureau of Ocean Energy Management defines OCS as: "the gently sloping undersea plain between a continent and the deep ocean." Put more simply, CNN Money defines it as "the hundreds of miles between state coasts and the deep sea — for oil and gas leases."
Noting that the plan "has drawn bipartisan opposition from nearly all coastal governors," environmental website EcoWatch reported earlier this month that "in one of the strongest declarations of opposition yet, California's Lt. Governor Gavin Newsom, chair of the state's powerful land commission has vowed 'not a single drop from your new oil plan will ever make landfall in California.'"
So what's the plan? The Golden State will deny pipeline permits for transporting oil over land from new leases off the Pacific Coast.

California's State Lands Commission sent a letter on Wednesday to the U.S. Interior Department's Bureau of Ocean Energy Management that stated, "It is certain that the state would not approve new pipelines or allow use of existing pipelines to transport oil from new leases onshore."
Got news for you, @realDonaldTrump — not a single drop from your new oil plan will ever make landfall in CA.

We will not be complacent in your deliberate partisan assault on our people and our economy. We will resist your cynical, regressive agenda.https://t.co/1MEF6oo0Sq

— Gavin Newsom (@GavinNewsom) February 7, 2018
Citing articles by NPR and CNBC, EcoWatch elaborated, reporting that:
Additionally, as NPR reported, even if oil companies drill off California's shores, they cannot construct new onshore infrastructure—i.e. terminals, pipelines and other equipment—without voter approval from more than a dozen coastal cities and counties first.

[…]

Furthermore, CNBC noted that California could also invoke the federal Coastal Zonal Management Act of 1972, which gives states the authority to review offshore federal and industrial activity that may affect a state's coastal uses or resources.
Better yet:
"This strategy," as CNBC pointed out, "could provide a blueprint for other states" opposed to offshore drilling.
Indeed that appears to be the case. As Reuters reported on Thursday, "Washington state is preparing to reject land leases and easements to stymie the Trump administration's plan to allow oil drilling off its shores, an official of the Pacific northwest state said on Thursday."
State Commissioner of Public Lands Hilary Franz, in a letter to U.S. Interior Secretary Ryan Zinke issued Thursday, stated that: "Given the danger offshore drilling poses to our environment and economy, I do not foresee how any proposal to use our aquatic lands to service offshore wells is in the best interest of Washington."
Speaking to Reuters on a phone interview, Franz said that she wanted her letter to serve as a warning to the federal government. "We didn't invite you here, and we don't want you here," she said.
Newsday reported on Wednesday that Long Islanders were protesting the administration's offshore drilling plans as well.
Oil and gas drilling off Long Island's South Shore has the potential to devastate coastal economies and industries, and cause irreparable harm to the environment, a contingent of lawmakers, environmentalists and others told a state hearing in Hauppauge on Wednesday.

The group included a representative from state Attorney General Eric T. Schneiderman's office, who said the office was prepared to sue the Trump administration to block any oil or gas drilling plan off the New York coast.

It also included Randy King, co-chairman of the Shinnecock Indian Nation's council of trustees, who indicated the Southampton tribe's sovereign standing and intergovernmental role over historic sites and waters could be used to oppose President Donald Trump's plan. "This is an issue that galvanizes people," King said in an interview, adding his tribe "never abrogated our role" as stewards of the land and waters around Long Island. "The way to go about this is to push more toward renewable energy," he said.
The Natural Resources Defense Council also reported on Wednesday that New Yorkers were also rejecting Trump's plans.
A hearing in Smithtown, Long Island, convened by New York State Assembly Members Steve Englebright, Christine Pellegrino, and Anthony D'Urso invited New Yorkers to speak to out on this "drill everywhere" plan.
…
Those of us who have joined together in Smithtown and are voicing opposition at the Albany public meeting on the Trump Administration's plan are not alone. Citizens and leaders all along the Atlantic coast—and throughout the country—are outraged at this disastrous proposal to auction off huge swaths of America's oceans for oil and gas drilling. The opposition is bipartisan—from Governor Andrew Cuomo's call to take New York out of the plan, to Governors Hogan and Cooper demanding the removal of Maryland and North Carolina.
(Visited 899 times, 1 visits today)