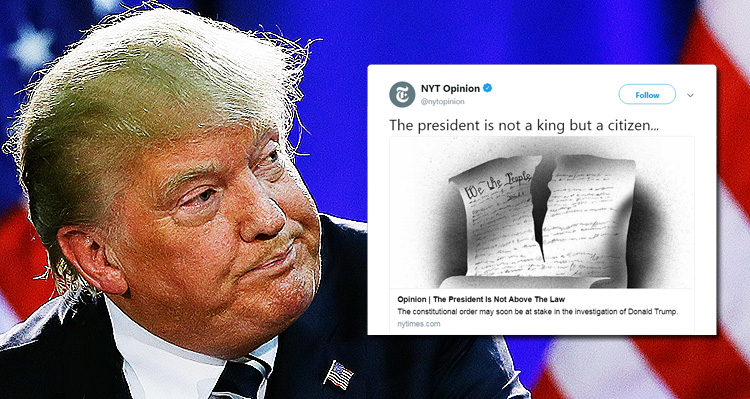 The New York Times calls on Republicans to do the right thing – "The President is not Above the Law."
The New York Times Editorial Board published a sternly-worded editorial on Sunday warning that Trump is "not above the law."
The article began with a 1999 quote by Senator Orrin Hatch (R-UT) regarding then president Bill Clinton. "This great nation can tolerate a president who makes mistakes," declared Senator Hatch, adding: "But it cannot tolerate one who makes a mistake and then breaks the law to cover it up."
After providing some background on Clinton's impeachment by the House of Representatives and his eventual acquittal by the Senate, the Editorial Board noted that: "We quote his words not to level some sort of accusation of hypocrisy, but to remind us all of what is at stake."
The article went to discuss, in detail, the looming Constitutional crisis that would occur if and when Trump decided to go on the offensive and take steps to shut down Special Prosecutor Robert Mueller's investigation.
News reports point to a growing possibility that President Trump may act to cripple or shut down an investigation by the nation's top law-enforcement agencies into his campaign and administration. Lawmakers need to be preparing now for that possibility because if and when it comes to pass, they will suddenly find themselves on the edge of an abyss, with the Constitution in their hands.
The Editorial Board calls on Republicans to stand up and do the right thing, should the nation arrive at that point, writing:
Make no mistake: If Mr. Trump takes such drastic action, he will be striking at the foundation of the American government, attempting to set a precedent that a president, alone among American citizens, is above the law. What can seem now like a political sideshow will instantly become a constitutional crisis, and history will come calling for Mr. Hatch and his colleagues.
Continuing, the Editorial Board noted that Republicans have stood up against Trump in the past when they still thought they could save the party from him winning the nomination:
Many of them are not fans of this president. Republicans used to warn the nation about Mr. Trump openly, back when they thought they could still protect their party from him. Here's a short sampling: "malignant clown," "national disgrace," "complete idiot," "a sociopath, without a conscience or feelings of guilt, shame or remorse,""graceless and divisive," "predatory and reprehensible," flawed beyond mere moral shortcomings," "unsound, uninformed, unhinged and unfit," "a character and temperament unfit for the leader of the free world," "A bigot. A misogynist. A fraud. A bully."
The Editorial Board noted that some leading Republicans continue speaking out:
A few senior Republicans have been saying the right things — including Mr. Hatch. He tweeted that anyone telling the president to fire Mr. Mueller "does not have the President or the nation's best interest at heart." Senator Lindsey Graham, of South Carolina, warned Mr. Trump that firing Mr. Mueller would be "the beginning of the end of his presidency."
However, as the Editorial Board continued:
That's all necessary and good. But it's not enough. More Republicans need to make it clear that they won't tolerate any action against either man, and that firing Mr. Mueller would be, as Senator Charles Grassley said, "suicide."
The Editorial Board concluded with the following warning to America – Congressional Republicans in particular:
Mr. Mueller's investigation has already yielded great benefit to the country, including the indictments of 13 Russians and three companies for trying to undermine the presidential election. None of us can know if prosecutors will eventually point the finger at the president himself. But should Mr. Trump move to hobble or kill the investigation, he would darken rather than dispel the cloud of suspicion around him. Far worse, he would free future presidents to politicize American justice. That would be a danger to every American, of whatever political leaning.

The president is not a king but a citizen, deserving of the presumption of innocence and other protections, yet also vulnerable to lawful scrutiny. We hope Mr. Trump recognizes this. If he doesn't, how Republican lawmakers respond will shape the future not only of this presidency and of one of the country's great political parties, but of the American experiment itself.
(Visited 989 times, 1 visits today)