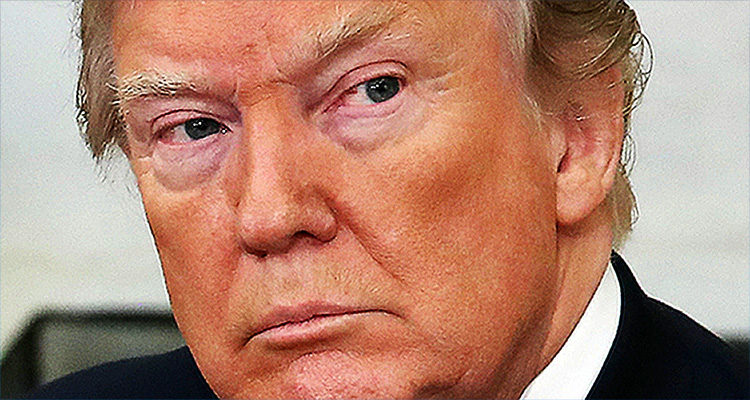 The New York Times Editorial Board weighed in on Trump's cruelty in deliberately breaking up immigrant families.
CNN reported the first week of May that "The Trump administration has decided to refer every person caught crossing the border illegally for federal prosecution, a policy that could result in the separation of far more parents from their children at the border."
Homeland Security Secretary Kirstjen Nielsen officially enacted the policy on Friday [May 4, 2018], according to a Department of Homeland Security official speaking on condition of anonymity. It corresponds with a Department of Justice "zero-tolerance policy" for illegal border crossings…
Sessions spoke out about the change on May the 7th while speaking to a gathering of the Arizona Association of State Criminal Investigative Agencies.
"So, if you cross the border unlawfully, even a first offense, we're going to prosecute you," Sessions said, adding: "If you're smuggling a child, we're going to prosecute you, and that child will be separated from you, probably, as required by law. If you don't want your child to be separated, then don't bring them across the border illegally."
In a separate article published this week, CNN reported that: "Trump blamed Democrats for immigration laws that force federal immigration agents to break up families during a roundtable to discuss California sanctuary state policies."
"I know what you're going through right now with families is very tough. But those are the bad laws the Democrats gave us," Trump said on Wednesday, adding: "We have to break up families. The Democrats gave us that law. It's a horrible thing, we have to break up families. That Democrats gave us that law and they don't want to do anything about it."
Noted constitutional law professor Laurence Tribe weighed in tweeting "Trump says such cruelty will deter illegal entry. So would cutting off a foot. As a punishment for the offense in question, ripping a child from a mother's arms wd be "cruel & unusual," violating the 8th [Amendment]."
Tribe also included a link to a scathing op-ed piece published by the Editorial Board of The New York Times, titled: "The Cruelty of Breaking Up Immigrant Families."
Trump says such cruelty will deter illegal entry. So would cutting off a foot. As a punishment for the offense in question, ripping a child from a mother's arms wd be "cruel & unusual," violating the 8th Am.

The Cruelty of Breaking Up Immigrant Families https://t.co/k3XPBaV1GS

— Laurence Tribe (@tribelaw) May 18, 2018
The article began on the following somber note:
In a tantrum last week, President Trump raged against Kirstjen Nielsen, the homeland security secretary, in part because she had not done enough to break up families who crossed the southern border illegally. Mr. Trump thinks such callousness will deter families from illegally crossing over from Mexico, often to seek asylum from gangs and political violence.

Ms. Nielsen apparently took offense at Mr. Trump's abuse, but her department is still in line with his "security-focused agenda," making plans to use military bases to hold children separated from their parents by the Border Patrol, according to The Washington Post.
Continuing, the Editorial Board wrote that:
That families constitute so great a proportion of illegal border crossers undercuts Mr. Trump's contention that he is cracking down on immigration to keep out rapists and criminals. "These aren't people, these are animals," he snarled on Wednesday, in a stunningly dehumanizing reference to deported gang members. But his administration's policies are not calculated to deal with the specific threat of violence, but rather to immiserate people whose only crime is wanting safety or opportunity. Migration north to the United States is largely what it has always been, an act of desperation by those fleeing violence, and of hope by those seeking new opportunity.
They went on to make several points regarding the administration's efforts to crack down on "the most vulnerable immigrants. We have reorganized their remarks into bullet points:
The White House, raising the specter of gang violence, has called on Congress to amend child trafficking laws so that more children who cross the border on their own can be deported directly, rather than placed in foster care or with relatives.
This new measure is particularly extreme considering that the federal agency that oversees such minors says only 1.6 percent are affiliated with gangs.
The Department of Homeland Security is reducing or revoking a special status for immigrant children who say they have been abused, neglected or abandoned. And
The State Department has canceled a program that makes it easier for children from El Salvador, Guatemala and Honduras to gain asylum by letting them apply before heading to the border.
The Editorial Board concluded their article, drawing a comparison between Trump's approach and that of the administration of Barack Obama.
Administration officials would like it to appear that they are without animus and are simply following legal requirements that had been overlooked before. But the Obama administration aggressively enforced immigration laws, deporting 2.5 million people and detaining unaccompanied minors who crossed the border, without deliberately targeting children.

That this administration is doing so may be offensive, but it should be no surprise, given that its immigration crackdown is already distinguished by simple cruelty toward families and working people.

Even supporters of tougher enforcement should tell the White House that it is going too far. It can enforce immigration laws without such draconian measures and protect children, who are most easily exploited.
(Visited 2,461 times, 1 visits today)