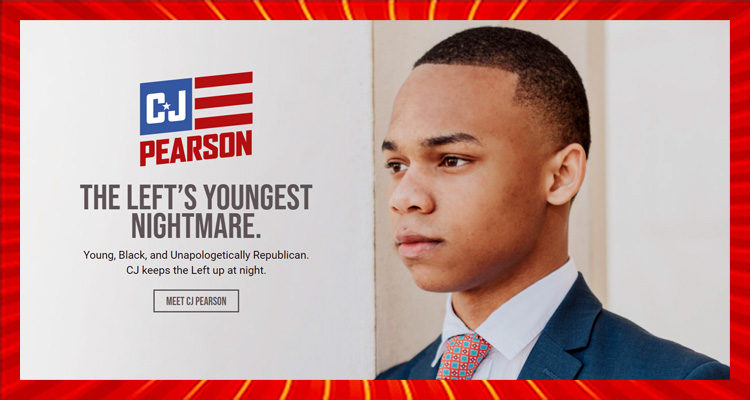 Another one of "the best and the brightest" floats to the top. 
If you have been paying any attention to social media, you have probably come across the likes of CJ Pearson.
Born July 21, 2002, Pearson promotes himself as "The Left's Youngest Nightmare."
His website offers a short bio boasting of his humble liberal roots and rise to prominence among conservatives: " Raised by Democrats, CJ has taken a path in life few would expect, emerging as a leading voice among right-leaning youth across America," and so on…
However, a quick review of his past tells a much different story.
The Washington Post reported in March 2015 that, Pearson was caught lying when he falsely claimed that his Facebook account had been suspended for his political activity when, in fact, it had been suspended for a terms of service violation – namely that he was a 12-year-old, and the site requires members be at least 13 years of age.
Next, the conservative website Cowger Nation reported in July 2015 that Pearson had been dumped by his management agency for falsifying documents and exhibiting a "pattern of dishonesty and deception." That story was also confirmed by Peach Pundit who published the termination letter from DBC Management.  It was also revealed that Pearson took on a convicted felon and con man as his business partner to facilitate a fundraising campaign to the tune of $2.6k.
The then fatal blow to his conservative career occurred just two weeks later when Pearson was outed as a fraud by none other than Glenn Beck's conservative news site, The Blaze. We won't go through all the details here, but suffice it to say that – for all intents and purposes – Pearson was run out of the conservative movement after all the grisly details were revealed.
Having had the door slammed in his face by conservatives, Pearson turned to liberals for the much-coveted attention.
Step one occurred in November 2015 when Pearson renounced conservatism in a letter to CNN. As CNN reported at the time, "Pearson, an African-American who once referred to the Black Lives Matter movement as "domestic terrorists," said he bolted the conservative movement due to its 'lack of concern over racial discrimination in this country.'"
Then, in December 2015, Pearson was able to stir up the media again when he endorsed then Democratic presidential candidate Bernie Sanders.
"This election will make a pivotal difference in the future of our nation. If it takes changing your mind to make the right choice as to who should lead our country, I am willing to do it. Screw the optics," Pearson, the former chairman of "Teens for Ted Cruz," told CNN.
"People are struggling in America. We need the right man in the White House. And in my opinion, that man is Senator Bernie Sanders," he added.
Long story short, Pearson's claim to fame as a liberal soon faded, and he initiated another flip-flop – this time returning to his conservative roots as one of Trump's most outspoken supporters – a position he maintains today.
Given his history coupled with the ever-increasing likelihood that Trump will be impeached, indicted or otherwise chased out of office – it will be interesting to see Pearson's next move.
As a side note, you should check out this article written by our very own Madison Kimrey, who had some much needed words of advice for Pearson back in 2015 – advice he clearly failed to heed.
(Visited 9,355 times, 1 visits today)