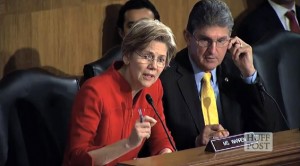 Elizabeth Warren is proving to be a force to be reckoned with.
At her first Banking, Housing and Urban Affairs Committee hearing, Elizabeth Warren grilled bank regulators and made them squirm.
FDIC, SEC, OCC, CFPB, CFTC, Fed and Treasury got a taste of how things will be changing with Warren asking the questions.
Her first question "When was the last time you took a Wall Street bank to trial?"  The simple question proved difficult to answer for Thomas Curry, head of the Office of the Comptroller of the Currency. He evaded, danced around and did his best to give the typical non-answer we've all come to expect. Eventually after not getting a clear and concise answer Warren said, "There are district attorneys and United States attorneys out there every day squeezing ordinary citizens on sometimes very thin grounds and taking them to trial in order to make an example, as they put it. I'm really concerned that 'too big to fail' has become 'too big for trial.'"
We have been waiting far too long for a politician to ask the questions that the American people have been asking. Today Elizabeth Warren stood up for the American people.
Watch the exchange, courtesy of Huffington Post:
Kimberley A. Johnson – A.K.A. The Anti Coulter is the author of The Virgin Diaries and an activist for women's rights. Like her on Facebook, Twitter or friend her on FB HERE. Check out her campaign to raise money for her next book on Women's Rights and The Importance Of Voting.
(Visited 15 times, 1 visits today)