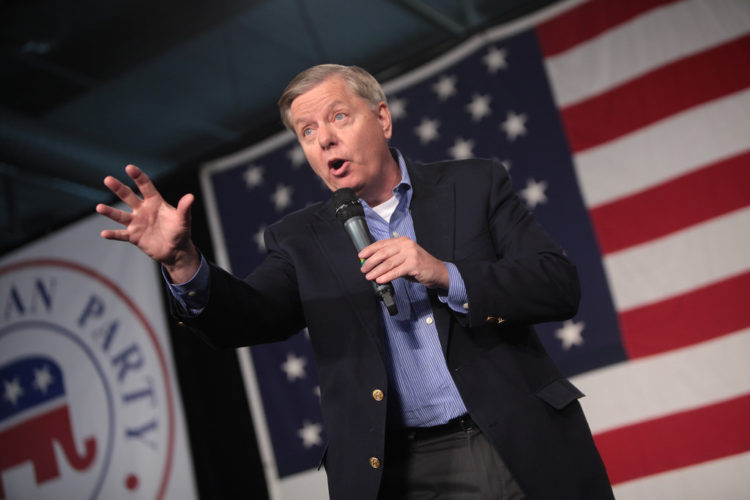 Many social media users believe Russians may have compromising information — also known as "kompromat" — on Senator Lindsey Graham (R-SC). Graham was a staunch critic of Donald Trump in 2016, but recent comments and actions by the senator have led a number of voters to believe there's something nefarious going on.
In February 2016, Graham tweeted, "Donald Trump is not a conservative Republican. He's an opportunist. He's not fit to be President of the United States."
Minutes later he tweeted, "If Donald Trump is the GOP nominee for President, we will get slaughtered in November 2016. And frankly, we will deserve it."
That same month, Graham appeared on Fox News and said of Trump, "I think he's a kook. I think he's crazy. I think he's unfit for office."
However, Graham's position on the president took a 180° turn the following year. In a November 2017 CNN interview, the South Carolina Republican complained he was fed up with the way the media portrayed Trump saying, "What concerns me about the American press is this endless, endless attempt to label the guy as some kind of kook not fit to be president. It's pretty frustrating for most Republicans, quite frankly, that it's 24/7 attack on everything the president does or thinks. It gets a little old after a while."
In 2016 Graham called Trump a "kook," who wasn't fit for office, and then later in 2017, he complained the media is treating Trump like a "kook not fit to be president."
What changed?
To be fair, it's not uncommon for high-ranking civil servants to criticize possible presidential nominees within their own party only to turn around and support them during the general election. Both sides do it, but Graham said he voted for Evan McMullin, not Trump, in the general election.
There's some evidence that Graham's change of heart might have something to do with dirt the Russians may have on him.
Russians didn't only hack the Democratic National Committee (DNC), they also hacked the Republican National Committee (RNC), yet the Russians didn't release the data they had on Republicans. Some of that data is speculated to be private emails. This leads one to ponder if there's something in those emails Senator Graham doesn't want anyone to see, and that possibly his new positions have something to do with a threat of releasing that information to the public if he doesn't toe the party line.
There's also the 2017 article in The Dallas Morning News which outlined a variety of Republicans who took over $7 million in campaign contributions "from a Ukrainian-born oligarch who is the business partner of two of Russian president Vladimir Putin's favorite oligarchs and a Russian government bank." The article noted Graham received $800,000 of that chunk of cash.
Graham has also changed his tune on what he believes should constitute a presidential impeachment. In 1999 he said, "A president doesn't even have to be convicted of a crime to be impeached. Impeachment is about restoring honor and integrity to the office."
Just last week Graham told a McClatchy reporter, "It's 'too early to tell' if the public was starting to turn against President Donald Trump in such a way as to make impeachment politically tenable. He said that such a step shouldn't even be a talking point."
Graham hasn't addressed why he's changed his position – even after it was revealed last week that former Trump lawyer Michael Cohen told federal prosecutors he committed felonies at the direction of the president.
The Senator's changing narrative is leading people to question whether or not he's been compromised by the Russians.
Read what other people are saying about possible kompromat on Graham on Twitter.
Follow Kimberley A. Johnson: Twitter, Facebook.
(Visited 3,062 times, 1 visits today)