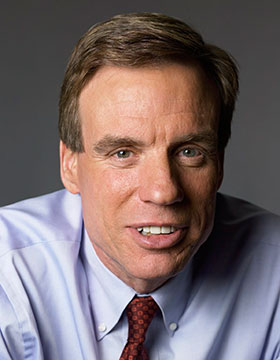 Update: 6/6/13.
Warner's office has announced that Mark Warner has signed on to SJRes15!
Yay! Thank you, Mark!
~~~~~~~~~
Why is Democratic Virginia Senator Mark Warner ignoring women?
Senator Warner has been contacted numerous times by his constituents as well as people from all around the country, and they are requesting that he sign SJRes15, a bill that removes the deadline from the Equal Rights Amendment. Liberals Unite has reached out to him and his staff several times requesting a statement on his position. We have received no answer. Nothing. Zip.
Warner says he supports women. Signing SJRes15 is a perfect opportunity to back up his statement with a simple signature, yet he can't seem to be bothered.
Warner wants to be re-elected, and he wants women to support him. By ignoring the public who pays his generous salary, he is proving that misogyny is alive and well in the Democratic Party.
Women, if you were with a man who promised to help you paint the house and he never showed up, how would you react? If you asked him why he didn't bother to show up, AND HE JUST IGNORED YOU, would you stay with him? Would you accept this behavior from people in your life? If the answer is no, why would you accept this behavior from an elected official—a PUBLIC SERVANT?
We hear Democrats say they support women all the time. How do they prove this? Occasionally bills are passed in individual states that serve to protect or secure women's rights and YAY for that, but there is no constitutional protection for women in the United States of America.
Bill Maher recently said on his HBO show, Real Time, that marijuana will be the next big thing in the civil rights movement. REALLY??? WEED will become legal and be recognized before WOMEN?? Italy ratified their Equal Rights Amendment in 1947. Are you okay with the fact that pot will be the next big thing in civil rights, but women will just have to accept the fact we earn less than men for THE SAME JOB?
It's no secret the Republicans are doing their best to keep women down and stripping away the rights we do have, but when Democrats ignore women after winning elections run on the message they support women, who do we blame when they don't practice what they preached?
Article V makes no mention of deadlines on constitutional amendments. When the deadline that was imposed by Congress is removed, the process can begin to secure the last three states needed to fully ratify the ERA into the Constitution. We've asked Warner to take a few minutes out of his day to sign the bill. That is the only effort he would need to make at this stage in the process.
When fellow Virginia Senator Tim Kaine was asked to do this on May 21, Liberals Unite was contacted two days later by a staffer who told us that Kaine signed the bill and that he would look for an opportunity to include the ERA in his platform.  Warner doesn't believe equality for women is important enough to address.
Eileen Davis, cofounder of WomenMatterUseYourPower.com, had a sit down with Nicholas Devereux, Warner's Legislative Aide, and had this to report:
"Mr. Devereux was cordial, polite and dismissive. He was given a courtesy copy of the twenty-seven-page Congressional review that examines all aspects of the bill.  His response was that he would check with the Congressional review people. (Did he think we gave him a tampered report?) He also said he'd get back to us – he has not, despite thank you emails sent from me to him as well as from others. Broad sweeping statements such as "Sen. Warner supports women" were given, and I was informed that Warner supports the Paycheck Fairness Act. While we are happy about his support, our response to him was the bill, SJRes15, is simpler than the Paycheck Fairness Act. It simply allows us to restart a stalled quest for constitutional inclusion, which if enacted, would render a PFA unnecessary and reinforce other laws protecting equality rights that are not now constitutionally backed, like Title 9 and Lily Ledbetter. He told us he'd look into it and get back to us. He has not. We need action not platitudes."
Rumor has it Warner only pays attention to Virginia voters. Keep this in mind if you choose to call him and ask that he sign SJRes15. When enough people contact his office, the first question will be "What is your zip code?' If the caller doesn't provide a Virginia zip code, their voice is ignored. The ERA is a national issue, not just a Virginia one.
If you are a Virginia voter who wishes to let Warner know you want him to support equality for women, you can call 202-224-2303. Ask for Nicholas Devereux or Auguste Humphries and specify why you are calling. You may also send emails and I will provide both a copy and paste text below and a script if you call.
Copy and past into an email or use as a script when calling:
Dear Senator Warner,
Please support equal rights for women and sign SJRes15, a bill that removes the deadline to the Equal Rights Amendment.
Please note the Senators and Representatives who have co-signed the bill:
Senators:
Baldwin, Tammy [D-WI]
Begich, Mark [D-AK]
Boxer, Barbara [D-CA]
Brown, Sherrod [D-OH]
Durbin, Richard [D-IL]
Gillibrand, Kirsten [D-NY]
Harkin, Thomas "Tom" [D-IA]
Heinrich, Martin [D-NM]
Hirono, Mazie [D-HI]
Kirk, Mark [R-IL]
Landrieu, Mary [D-LA]
Lautenberg, Frank [D-NJ]
Levin, Carl [D-MI]
Menéndez, Robert "Bob" [D-NJ]
Mikulski, Barbara [D-MD]
Murkowski, Lisa [R-AK]
Murphy, Christopher [D-CT]
Sanders, Bernard "Bernie" [I-VT]
Stabenow, Debbie [D-MI]
Klobuchar, Amy [D-MN]
Tim Kaine [D- VA]
Representatives:
Chu, Judy [D-CA27]
Clay, Lacy [D-MO1]
Conyers, John [D-MI13]
Cummings, Elijah [D-MD7]
Dingell, John [D-MI12]
Edwards, Donna [D-MD4]
Ellison, Keith [D-MN5]
Grijalva, Raúl [D-AZ3]
Gutierrez, Luis [D-IL4]
Hoyer, Steny [D-MD5]
Kaptur, Marcy [D-OH9]
Levin, Sander [D-MI9]
Lowenthal, Alan [D-CA47]
Lujan Grisham, Michelle [D-NM1]
Maloney, Carolyn [D-NY12]
McCollum, Betty [D-MN4]
Michaud, Michael [D-ME2]
Moore, Gwen [D-WI4]
Moran, James "Jim" [D-VA8]
Norton, Eleanor [D-DC0]
Pingree, Chellie [D-ME1]
Richmond, Cedric [D-LA2]
Ruppersberger, A. Dutch [D-MD2]
Sarbanes, John [D-MD3]
Schakowsky, Janice "Jan" [D-IL9]
Smith, Adam [D-WA9]
Speier, Jackie [D-CA14]
Tsongas, Niki [D-MA3]
Van Hollen, Chris [D-MD8]
Wasserman Schultz, Debbie [D-FL23]
Wilson, Frederica [D-FL24]
Additional Co-Sponsors who have agreed to sign on (pending until list is updated by Rob Andrews office):
Lee, Barbara [D-CA13]
Davis, Susan [D-CA53]
Buchanan, Vern [R-FL 16]
McGovern, James [D-MA2]
Markey, Ed [D-MA5]
Shea-Porter, Carol [D-NH1]
Ryan, Tim [D-OH13]
Blumenauer, Earl [D-OR3]
Connolly, Gerry [D-VA11]
Pocan, Mark [D-WI 2]
Cartwright, Matthew [D-PA17]
(Visited 105 times, 1 visits today)