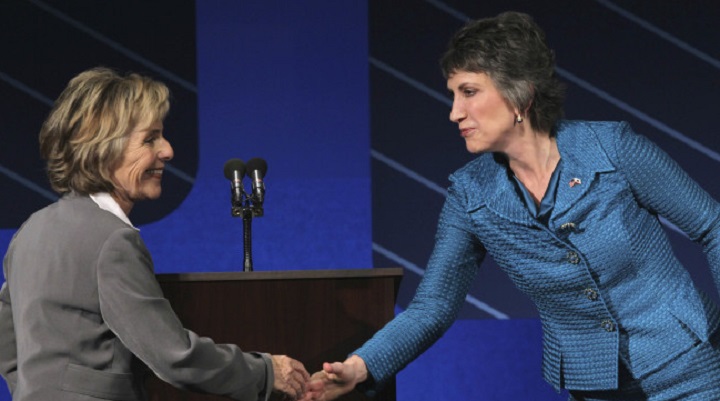 2016 GOP hopeful Carly Fiorina owned the CNN Republican debate. The audience cheered (and I'll bet some Democrats watching at home did, too) when she responded to sexist Donald Trump and let him know women across the country heard his disparaging comment about her face.
There was at least one Democrat who wasn't cheering for Fiorina. Several years ago, the former Hewlett Packard CEO was caught on an open mic making fun of Sen. Barbara Boxer's (D-CA) hair.
In 2010, Fiorina was prepping for an interview with CNN affiliate KXTV and was caught on an open mic telling one her staff members [about Boxer], "What is that hair? So yesterday!"
Before Wednesday's debate, Boxer spoke with MSNBC's Chris Matthews about her senate race against Fiorina in 2010, and condemned Trump's comments about Fiorina's looks. The senator also made sure to remind us about Fiorina's petty hair remark in 2010.
"That's so off base, I can't even go there," Boxer said of Trump's wisecrack and she added, "But she should have realized that when she attacked me because my hairstyle was, quote, 'So yesterday.'"
(Visited 44 times, 1 visits today)