While a great majority of police officers are good honest people doing a very difficult job, there are valid reasons why so many people dislike the police.
Many Americans find themselves at odds with the police in the wake of the recent militarization of local police forces and the rash of shooting deaths of unarmed civilians by law enforcement officers.
The Guardian's interactive database "The Counted" recorded a stunning 1140 people killed by law enforcement officers in the United States in 2015. That's slightly more than 3 people per day.
There are many who think it is time to strike back at the police culture that has jettisoned "protect and serve" for the much more dangerous "suspect and control."
Sadly, last night a 33-year-old police offered suffered a "non-survivable" wound during an eleven-hour standoff with a domestic violence suspect. The suspect was found dead this morning of a gunshot wound according to Police Chief David Todd. However, as Todd told reporters: "we don't know if that was from us engaging him or something self-inflicted."
A close friend and associate named John lives in the neighborhood and posted about his experience with the police during the incident and talked with Liberals Unite.
John related in a phone call with Liberals Unite that his wife received a disturbing text message from the police advising that they would be conducting a "knock and enter" search of nearby houses. John related that they interpreted the message to mean if they did not promptly open the door that police would kick it in and enter the home.
"I understand that police use that kind of language talking with each other," John related, adding that he felt they should be a bit more sensitive with the kind of wording they use when dealing with civilians.
John also related that he was instructed by police to leave his car in the street and to take his family to the basement until they received the "all clear."
"I live a block and a half north of where the shooter was holed up in North Fargo last night. The situation started around 7 p.m. and the all clear wasn't given until this morning at 6 a.m. The police told us to go inside our houses, lock the doors and go into the basement and not come out," John wrote, adding that: "This morning I woke up to find that I had a ticket on my windshield for overnight parking. Thanks Fargo!"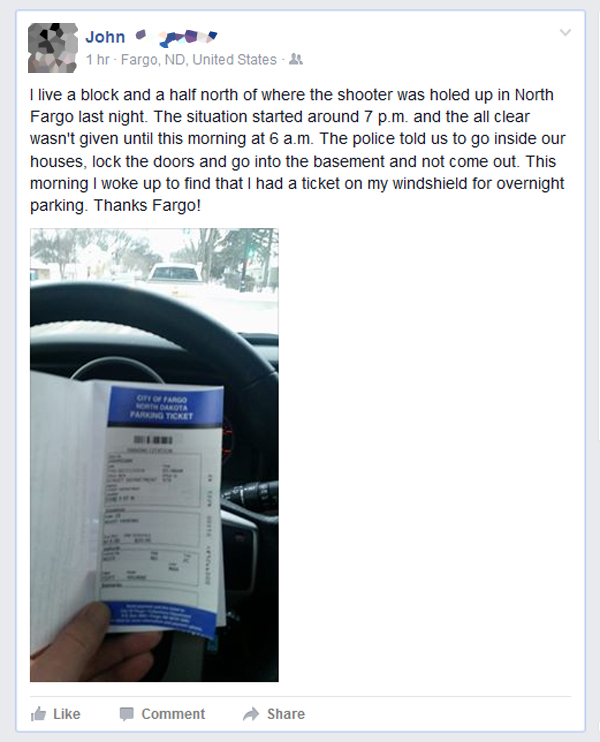 As unfortunate as the death of a police officer is, it is also sad that the police seem to lack the judgment to properly deal with the public as evidenced by John's post.
This may not seem a big deal, and certainly John will be able to get this matter easily resolved – but it seems that the police could exercise a little common sense when dealing with such matters.
Not only does it seem ridiculous that they wrote him a ticket for complying with their instructions – but it seems in the wake of an eleven-hour standoff, they could be a bit more sensitive to a public that is surely upset and frightened.
The gunman fired multiple shots during the standoff, and the Daily Mail reports that Officer Jason Moszer was only the second law enforcement officer killed in the line of duty in Fargo since 1882.
On the bright side, other residents reported having a pleasant experience with law enforcement during the ordeal. As Yahoo News reports, Sarah Stensland and her girlfriend live less than a block from the suspect's home and "hunkered down in the basement for the night."
"We were scared. We could hear gunshots very clearly, even from the basement," she told Yahoo News. "I felt like my nerves were on edge all night. I'm just exhausted."
Stensland added that officers from the SWAT Team checked on them around 1 a.m.
"I'm glad there were so many people willing to put their lives on the line to protect us," she said. "It's just unfortunate that one had to get hurt."
(Visited 141 times, 1 visits today)