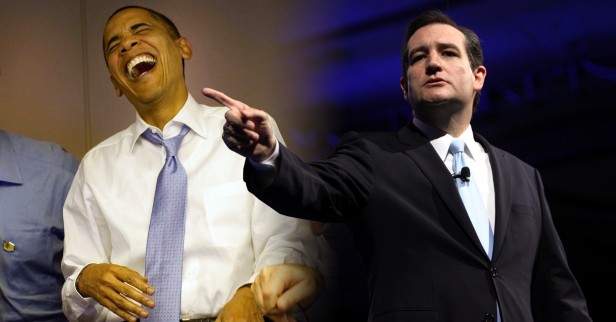 Tea Party favorite Senator Ted Cruz (R-TX) had already pissed off most of his fellow Republicans by forcing the Senate into session on Saturday when he took things a step further into the land of the ridiculous by accidentally saving the day for President Obama's immigration actions – at least in a very symbolic way.
As The Hill reports, "Cruz took to the floor late Friday to castigate congressional leaders for trying to pass the 1,600-page spending bill after only a few hours of debate and questioned the resolve of Senate Republican Leader Mitch McConnell (Ky.) and Speaker John Boehner (R-Ohio) to fight Obama's executive order protecting five million illegal immigrants from deportation."
According a report by Yahoo, Senators Cruz and Mike Lee (R-UT) demanded an immediate vote to halt the Presidents immigration actions, but Senate Majority Leader Harry Reid (D-NV) refused to give them the vote.
Then on Saturday, Cruz jumped the gun and forced a "constitutional point of order" regarding Obama's most recent actions on immigration. Cruz wanted to raise the point of order to set up a vote that he said would require his fellow senators to take a position on the president's actions.
According to Cruz's spokesperson, Catherine Frazier, "This procedural tool will ensure that every Senator will be on record regarding the constitutionality of President Obama's illegal amnesty."
As per a deal brokered on Friday by Reid and Mitch McConnell (R-KY) the incoming majority leader, that point of order was to be raised on Monday, but Cruz just couldn't wait so he brokered his own deal with Reid to put the point of order to a vote on Saturday, thus paving the way for the Senate to recess earlier than initially expected.
"If you believe President Obama's executive order was unconstitutional, vote yes," Cruz said before the vote was taken, adding "If you think the president's executive order is constitutional, vote no."
But here's where it get interesting. As Paul Kane of the Washington Post tweeted, with 42 Senate Republicans in attendance and 3 others missing, only "22 supported Cruz's constitutional order, barely half" and the point of order failed by a vote of 22 to 74.

With 3 Rs missing, there were 42 Senate Rs here. 22 supported Cruz's constitutional order, barely half.

— Paul Kane (@pkcapitol) December 14, 2014


And it gets even funnier…. As Yahoo reports:
[W]hen the Senate voted on Cruz and Lee's motion on Saturday, 20 Republicans joined Democrats in voting against it — not because they support President Obama's actions on immigration, but to show their disapproval of Cruz and Lee's tactics. That included not only McConnell, but Cruz's fellow Texas Senator John Cornyn and Lee's fellow Utah Senator Orrin Hatch.
FINAL SCORE:
Ted Cruz: -2
President Obama: +74
AND, as Politico reported, as a result of the Senate being forced into Saturday session by Cruz and Lee:
Reid was able to begin moving forward on 24 of the president's nominations, including controversial figures like Vivek Murthy to be the new surgeon general, White House adviser Tony Blinken to be the deputy secretary of State and Sarah Saldana to head Immigration and Customs enforcement and a dozen federal judges to lifetime appointments.
That takes the FINAL FINAL SCORE to:
Ted Cruz: -26
President Obama: +98
(Visited 29 times, 1 visits today)