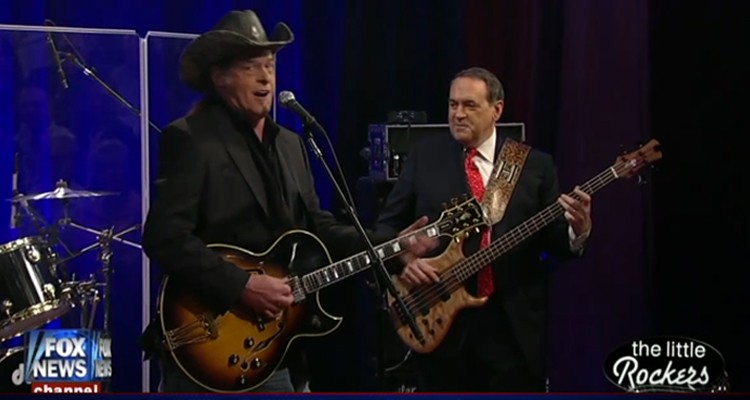 2016 hopeful Mike Huckabee likes to sit on his high, evangelical horse and cast judgment on all the dirty liberals and feminists. Now, in an effort to hide his blatant hypocrisy, he lied to the Christian Post about a performance on his Fox "News" program a few years ago.
But first, a little backstory:
Last year he said Democratic women have out-of-control libidos and depend on "Uncle Sugar" to take care of them.
He recently slammed the Obamas and criticized their parenting skills citing Beyoncé:
That's the whole point. I don't understand how on one hand they can be such doting parents and so careful about the intake of everything – how much broccoli they eat and where they go to school and making sure they're kind of sheltered and shielded from so many things – and yet they don't see anything that might not be suitable for either a preteen or a teen in some of the lyrical content and choreography of Beyoncé, who has sort of a regular key to the door" of the White House."
He wrote about Beyoncé in his new book, comparing her to a prostitute, and her husband, Jay-Z, to a pimp (emphasis mine):
Beyonce is incredibly talented – gifted, in fact. She has an exceptional set of pipes and can actually sing. She is a terrific dancer – without the explicit moves best left for the privacy of her bedroom. Jay-Z is a very shrewd businessman, but I wonder: Does it occur to him that he is arguably crossing the line from husband to pimp by exploiting his wife as a sex object?"
Oh my. Seems Huckabee is just a tad obsessed with Beyoncé. And sex. And the libidos of liberal feminists.
As it turns out, Huckabee did a little performance of his own with admitted pedophile Ted Nugent, and together, they sang Nugent's explicit song Cat Scratch Fever on national television back in 2011.
When asked about his hypocrisy, Huckabee LIED to the Christian Post and says that Nugent "changed the lyrics pretty dramatically" for Huckabee's Fox "News" show.
Evidently, the "Christian" hypocrite who so desperately wants to prove he's relevant, fails to realize that we have something called the INTERNET and we can SEE HE IS LYING.
Here's a little sample of the lyrics performed on Huckabee's show:
I make the p*ssy purr with

The stroke of my hand

They know they gettin' it from me, uh huh

They know just where to go

When they need some lovin man

I'm doin' it Mike and I'm doin' it all the time

I'd like to scratch that fever.

Cat Scratch Fever complete lyrics.
Please take a moment and Like Kimberley A. Johnson on Facebook.

If you can stomach it, you can watch Huckabee and Nugent's full performance in the clip, below. But have a barf bag ready.
(Visited 844 times, 1 visits today)