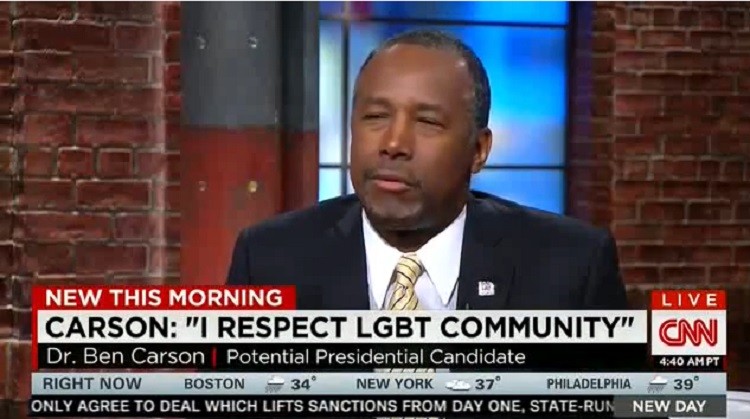 Ben Carson has made some pretty thoughtless and ill-informed comments about the LGBT community lately, so much so that he's said he doesn't want to discuss it anymore.
CNN's Chris Cuomo decided to press the retired neurosurgeon, who's openly hinted at a 2016 bid. Unable to stop himself, Carson stepped in it AGAIN.
Cuomo asked Carson, "As President of the United States, do you understand that you wouldn't be able to duck issues just because they make you uncomfortable or you don't do well on them?"
Carson said he doesn't find the topic of sexual orientation anywhere near as interesting [as Cuomo does] and then went on to say he believes it's a personal issue and "we oughta leave it as a personal issue."
Cuomo pointed out that it's a civil rights issue by explaining to Carson that the LGBT community feels excluded and discriminated against as a class, and brought up the pending SCOTUS decision on marriage equality.
Carson interrupted him to say, "You know what I would like to see? I would like to see as much emphasis on the rights of Christians . . . as there is to some of the other groups. I would like to see a much greater conversation about Christians and their rights. Why are we not talking about that?" Carson asked.
"We are right now," Cuomo said. "The LGBT community gets far less legal protection, as you know . . ."
"No, not as I know," Carson argued.
"How do you not know that?" Cuomo asked.
"The important thing is for us as a nation to recognize that all citizens of the United States are protected by our Constitution. We need to stop deciding that one group versus another is the flavor of the day."
He was also asked about whether or not gay conversion worked and refused to answer – other than saying it should be a personal decision.
Carson then suggested CNN run an hour-long special with Christian leaders – Yeah, that's gonna happen.
#RunBenRun
Please take a moment and Like Kimberley A. Johnson on Facebook.

(Visited 26 times, 1 visits today)