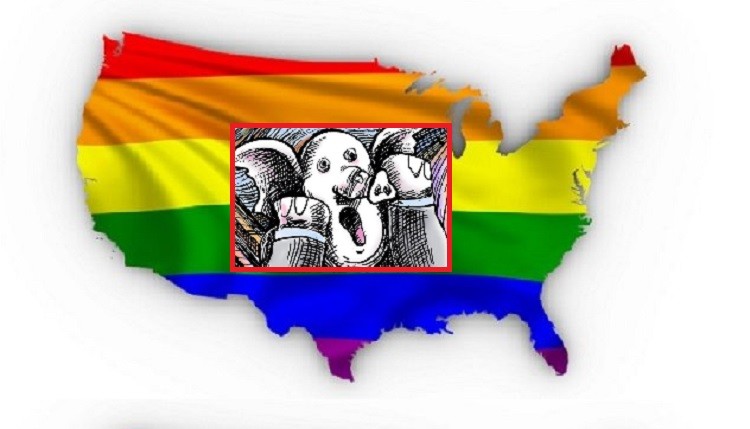 The Supreme Court will deliver their ruling on Marriage Equality very soon and it appears Democrats, liberals, every member of the LGBT community (and those who love them) will see another progressive victory.
While the GOP is still reeling from the Obamacare victory, the party will be slammed once again when the Supreme Court grants federal protections to give homosexuals the right to marry – just like those lucky heterosexuals.
Right Wing Watch (RWW) is a great website if you want to find out what right-wing lunatic extremists are saying about their beloved 'Murica and the sinners who want to destroy it.
For shits and giggles, I've collected today's headlines from the RWW front page. They are particularly depressing/hilarious today and it's kind of fun to gloat.
Without further ado, behold the splendor of the frightened radical right:
Jim Garlow: Homosexuality Wrong Because The Pipes Don't Fit
Huckabee: If Supreme Court Strikes Down Gay Marriage Bans, 'Everything Falls Away'
'We Need An Emancipation Proclamation' To Free Us 'From The Tyranny Of Sodomy'
Barber: Gay Rights Activists Are 'Pawns' Of Satan
Franklin Graham: Americans Must Repent For Electing Pro-LGBT Obama
Mat Staver Calls On Christians To Face Potential Gay-Marriage Martyrdom Like Daniel & Esther
Seriously – the DRAMA. It's astounding isn't it?
All of their silly warnings about the End Times and how God has the mads because Adam wants to marry Steve is a global embarrassment.
When Marriage Equality passes, and it will, Republicans will crap their collective pants, and I will laugh at them. Because they deserve to be laughed at.
Vive la gay!
Like Kimberley A. Johnson on Facebook HERE or follow her HERE.
(Visited 27 times, 1 visits today)