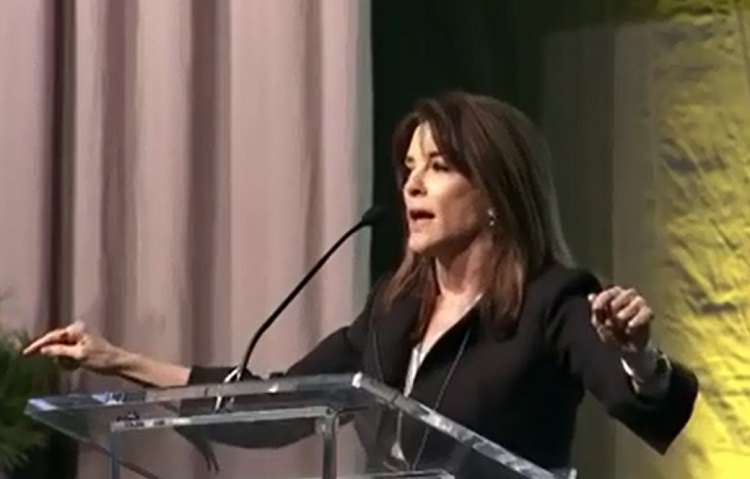 In the video below,  Marianne Williamson addresses women and religion at the 2015 Parliament of World's Religions in Salt Lake City Utah.
If you're not familiar with Williamson, here's a quick bio from Wikipedia:
"Marianne Williamson is an American spiritual teacher, author and lecturer. She has published ten books, including four New York Times number one bestsellers. She is the founder of Project Angel Food, a meals-on-wheels program that serves homebound people with AIDS in the Los Angeles area, and the co-founder of The Peace Alliance, a grassroots campaign supporting legislation to establish a United States Department of Peace. She serves on the Board of Directors of the RESULTS organization, which works to end poverty in the United States and around the world. Williamson is also the force behind Sister Giant, a series of seminars and teaching sessions that provides women with the information and tools needed to be political candidates. Through these seminars, she encourages women to run for office and align their politics with their spiritual values."
Williamson talked about how women are negatively viewed and treated in many religions around the world and offers up some very inspirational, thought-provoking ideas.
Her speech is just over eight minutes long. The excerpt below is taken from the 7 minute mark:
"If you're an educator, if you're a healer, if you're a religious leader, whatever you do, let us prepare the ground, fertilize the soil, prepare the listening, so that as women do find their voices and men find their voices, we must remember that passionate free thinking women have never been deeply appreciated by the great religions of the world because passionate free thinking women raise passionate free thinking children and passionate free thinking children grow up to be passionate free thinking adults and passionate free thinking adults are very difficult to manipulate and almost impossible to control."
Williamson wrote an open letter to Hillary Clinton in 2014, and it's included in a post that also features Gloria Steinem's thoughts on the 2016 presidential hopeful. Read it here.
Like Kimberley A. Johnson on Facebook HERE or follow her HERE
(Visited 121 times, 1 visits today)