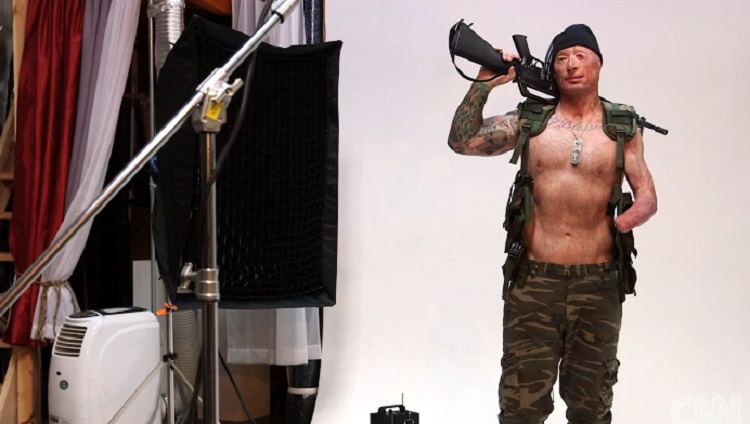 Photographer Michael Stokes portrays America's wounded veterans in a way we haven't seen before.
Dozens of vets have posed for Stokes in an effort to show, that despite battle wounds, they are strong, fit and happy.
Bobby Henline is a former staff sergeant who was badly wounded on his face and limbs by an explosive device north of Baghdad in 2007.
Stokes said, "After hanging with him, I didn't see his scars anymore. There was a moment when I forgot he was injured."
Stokes has photographed other veterans highlighting their muscled bodies as well as their missing limbs. The images are strong and provocative and show a strong sense of pride.
After seeing photographs of other wounded vets, Henline was inspired to participate:
"I've always wanted to show who we are inside. I think it helps get awareness out there for wounded veterans, for other civilians with disfigurements, burns, amputations. This creates awareness and shows the beauty, shows who you are inside is really who you are, that the shell doesn't matter that much."
"Many of my subjects take the photos very seriously because they see it as an opportunity to express themselves," Stokes noted. "Many of them have planned for it months in advance, and it is an opportunity for them to show the work that they've done, their recovery, to share their story with the world – whatever their personal story is – but we also have fun during the shoots."
Stokes styled photos of Henline in the steampunk genre and incorporated designs inspired by 19th-century industrial age machinery. A Marine veteran designed the prosthetic used for the photo shoot.
When asked if he is "glamorizing war," Stokes said viewers must be the ones to decide, "I want them to have the freedom to interpret it and digest it in their own way," he said.
Stokes added that the project has taught him an important message:
"One of the things I have learned from veteran models is they are most loyal to each other. They will do anything for each other. That is a brotherhood and sisterhood civilians don't get to enjoy."
Stokes, 52 is a a native of Berkeley, California. Some of his other photos of wounded warriors were inspired by famous works of art, such as Pieta and the Venus de Milo. His book Always Loyal is set for release on November 15, 2015.
Like Kimberley A. Johnson on Facebook HERE or follow her HERE
(Visited 84 times, 1 visits today)