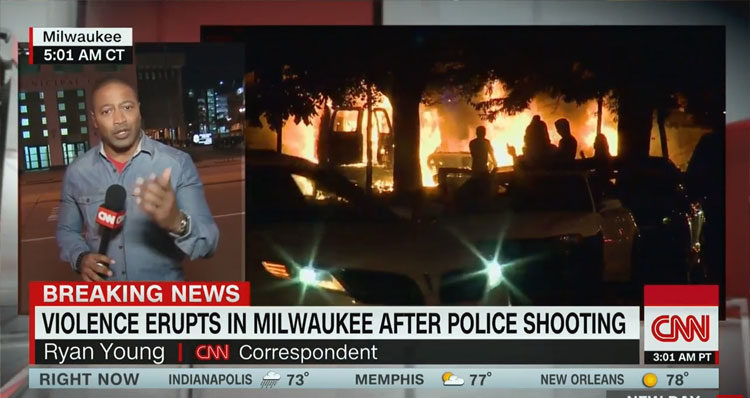 Milwaukee protests break out after police shooting
Milwaukee was ablaze Saturday night in the wake of a fatal shooting by police during a foot chase.
NBC News reports that "the victim, 23, was armed with a handgun and shot dead by an officer after fleeing a traffic stop on Milwaukee's north side Saturday afternoon."
Hours later angry crowds took to the streets, smashing a police car and setting fire to another. One officer was injured by a flying brick; a gas station and auto-parts store were set alight. Police said gunshots were heard.
The Milwaukee Journal Sentinel reports that "After an hours-long confrontation with officers, police reported at 10:15 p.m. that a gas station… was set on fire. Police said firefighters could not for a time get close to the blaze because of gunshots."
Gas station at Sherman and Burleigh set on fire. MFD cannot extinguish fire as gunshots are being fired.

— Milwaukee Police (@MilwaukeePolice) August 14, 2016
The Journal Sentinel also reports that fires were later started at three businesses – "including a BMO Harris Bank branch, a beauty supply company and O'Reilly Auto Parts stores"
Milwaukee Assistant Police Chief James Harpole told reporters that the initial crowd had thinned out by early Sunday but there were still "a lot of people out," adding that: "It is still a very tense situation for us."
A "grim and emphatic Mayor Tom Barrett" spoke at a midnight news conference at the District 3 police station, pleading with public for calm and asking for them to "do everything" to help restore order.
"If you love your son, if you love your daughter, text them, call them, pull them by the ears and get 'em home," he said. Barret also promised a strong police presence in the city in the upcoming days.
CNN reports that the north side of Milwaukee has been affected by violence in the past and remains a powder keg for problems throughout the summer.
The shooting occurred near the same place where a double homicide happened on August 9. In that incident a man was shot dead and another was fatally stabbed, police said.
City officials, such as Mayor Barrett, spoke to the potential for further problems. "This is a neighborhood that has unfortunately been affected by violence in the recent past," Barrett said.
City Alderman Khalif Rainey told reporters: "What happened tonight may not have been right and I am not justifying that but no one can deny the fact that there are problems, racial problems in Milwaukee, Wisconsin, that need to be rectified."
"This community of Milwaukee, Wisconsin, has become the worst place to live for African Americans in the entire country."
CNN goes on to report that Rainey said that "Saturday's violence was a byproduct of inequities, injustice, unemployment and under-education."
"Something has to be done to address these issues," he said, adding: "The black people of Milwaukee are tired, they are tired of living under this oppression, this is their life."
Frisco. Kentucky. Denver. Montreal. Sports Riots/Fires. If U didn't comment that was "so sad", STFU on #Milwaukee pic.twitter.com/fudEdlGcjR

— ChuckModi (@ChuckModi1) August 14, 2016
Nothing says justice like looting a beauty supply store and burning a gas station, auto store, and bank. #Milwaukee pic.twitter.com/fgNn8C8mRp

— Leah the Boss (@LeahRBoss) August 14, 2016
(Visited 78 times, 1 visits today)