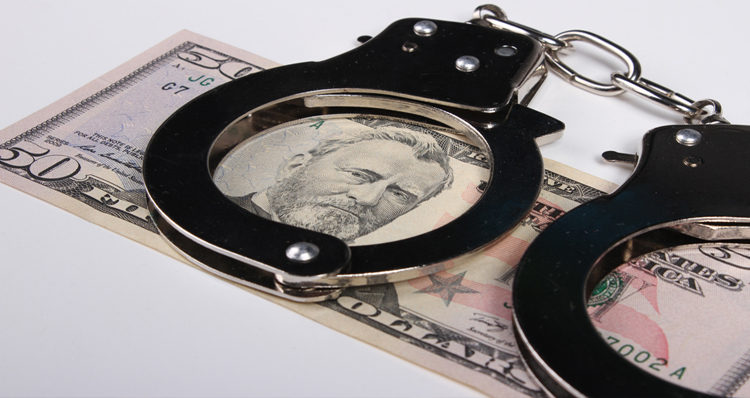 Allegations Of Criminal Conduct Surround Prominent Police Officials Supporting Trump Campaign
Accusations of criminal conduct on the part of Donald Trump's most prominent police backers challenge his claim to be the law and order candidate.
The Hill reports that The Fraternal Order of Police, the nation's largest police union, endorsed Trump last week "after he received support from more than two-thirds of the group's national board."
However, The Guardian reports that "dark spots on the records of some of Trump's most prominent police backers challenge the credibility of his claim to be the 'law and order candidate.'" Furthermore, this July, "a coalition of dozens of police chiefs and prosecutors pleaded with the Republican nominee to abandon his draconian ideas and embrace contemporary policing theory and criminal justice reform."
This weekend, Jon Swaine of The Guardian reviewed "some of the allegations made against a half-dozen lawmen" publicly supporting Trump's campaign.
Below is a short synopsis of two of these individuals and you can read his full article in The Guardian, "Donald Trump's police: officers backing Republican have murky legal histories," for the full details.
David Clarke
"Sheriff David Clarke of Milwaukee County, Wisconsin, has been Trump's most visible ally among serving police." However, "After one of his deputies broke a woman's neck by crashing his vehicle into her car, Clarke was alleged to have overseen an attempted cover-up that involved framing the woman for drunk driving."
Clark has also been accused of violations from his own staff. For instance, "In 2010, deputy Richard Graber, a senior official in the Milwaukee deputies' union, alleged that Clarke aggressively confronted him, called him a 'sick fuck' and threatened to 'come after him' for questioning an order that deputies must work mandatory overtime after the high-profile death of a local child."
Joe Arpaio
Sheriff Joe Arpaio of Maricopa County, Arizona, needs no introduction. "Over the past two decades [he has] become notorious as 'the most unrepentantly lawless lawman in America:' repeatedly condemned by the courts, denounced by civil liberties advocates and forced to pay out tens of millions of taxpayer dollars in compensation."
"Arpaio currently faces possible criminal charges for contempt of court for ignoring a judge's order in 2011 that his aggressive immigration patrols must stop racially profiling suspects. Earlier this year, Arpaio was held in civil contempt on three counts by a federal judge."
The Guardian also reports that "Sheriff Joe," as he is called by fans and detractors alike, is also noted for using the power of his office "to go after personal and political enemies."
In 2013, the cofounders of the Phoenix New Times newspaper, which had been investigating questionable real estate deals by Arpaio, were awarded $3.75m in damages after Arpaio's men arrested them on false charges in late-night raids on their homes.
In 2008, Arpaio had local judges and county legislators indicted on trumped-up criminal corruption charges that later collapsed entirely, resulting in yet more million-dollar payouts to those targeted. The failed charges also prompted the state supreme court to disbar the county attorney, an Arpaio ally, who was found to have brought malicious prosecutions against political foes.
Last year it emerged that Arpaio had even hired a private investigator to look into the wife of the federal judge who ruled in 2013 that Arpaio was engaged in illegal racial profiling. Spokespeople for Arpaio did not respond to a request for comment.
The Guardian report details the murky legal dealings of the following four individuals as well as allegations surrounding Vincent Caldara, the chairman of Donald Trump's "Florida law enforcement coalition," who boasted to a recent gathering of Trump supporters in Florida that he had been flying Trump's running mate Mike Pence "from coast to coast to make sure we get the law and order message out to every single person that will be voting on November 8th."
Sheriff Tim Howard of Erie County, New York, the co-chair of Trump's campaign in his home state – accused of cronyism and of misconduct for "three separate occasions when prisoners escaped or were mistakenly released from his jail."
Sheriff Paul Babeu of Pinal County, Arizona, whose ex-boyfriend, a Mexican national, alleged than an aide to Sheriff Babeu threatened him "when he refused to sign an agreement not to publicly disclose the relationship."
Sheriff Wayne Ivey of Brevard County, Florida.
Sheriff Scott Jones of Sacramento County, California.
(Visited 114 times, 1 visits today)